Peter Dewar finds Torquay's RACV Resort makes a great base for a family holiday on Victoria's Great Ocean Road – one of Australia's most popular attractions.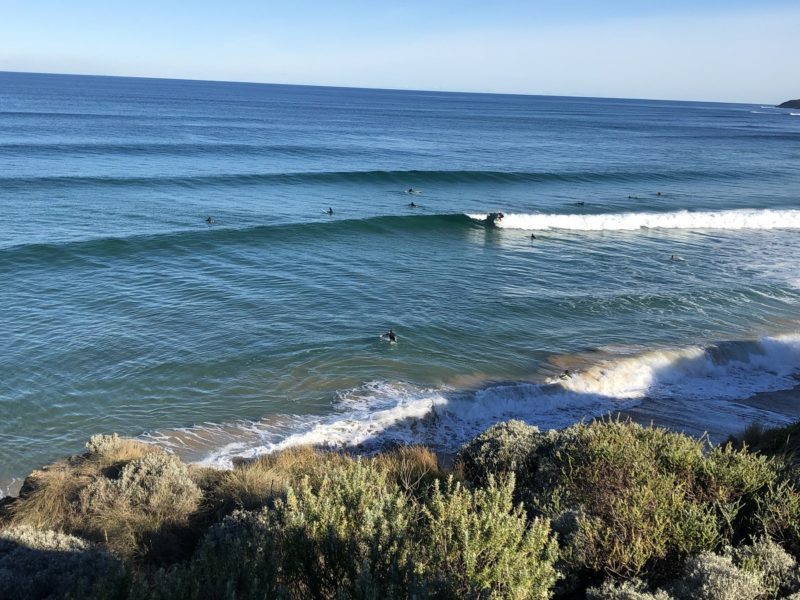 Much has changed about surfing since the days of scrambling down muddy cliffs and later shivering in an on-site caravan.  The Surf Coast's rugged coastline and world-acclaimed surf breaks are still there to tame.  Now, the combination of Surf Coast Walk and RACV Torquay Resort turn a west coast encounter into a cosy, five-star experience.  Come to think of it, there's really no need to brave the water anymore.
Just over one hour from Melbourne, the seaside resort Torquay marks the start of Victoria's Great Ocean Road.  RACV Torquay Resort — a majestic, arched monolith — nestles discreetly into the green landscape.  And only a short hike away, surf pilgrimage of sorts, is legendary Bells Beach: venue for the Rip Curl Pro, the professional World Tour's longest-running surf contest.
Thick woodland, ochre cliff faces, expansive views of a deep blue Bass Strait.  No.  What makes the Surf Coast Walk so unique is the window the 44-kilometre coastal track opens into the world of surfing.
Energised by bracing sea air, we set off from our hotel digs towards nearby Jan Juc beach.  Within minutes we were immersed into surfing culture: Car parks of pale bodies peeling in and out of wetsuits.  The sound of wax blocks scraping against fibreglass boards.  Surfers with one hand on weathered timber railing, staring out at the ocean — wondering what tide or wind will do with the incoming swell.
Wooden stairs provide access from cliff tops to popular surf breaks.  At 'Bells' during Easter, international surf champions walk up these same steps at the end of a heat with a surfboard under their arm.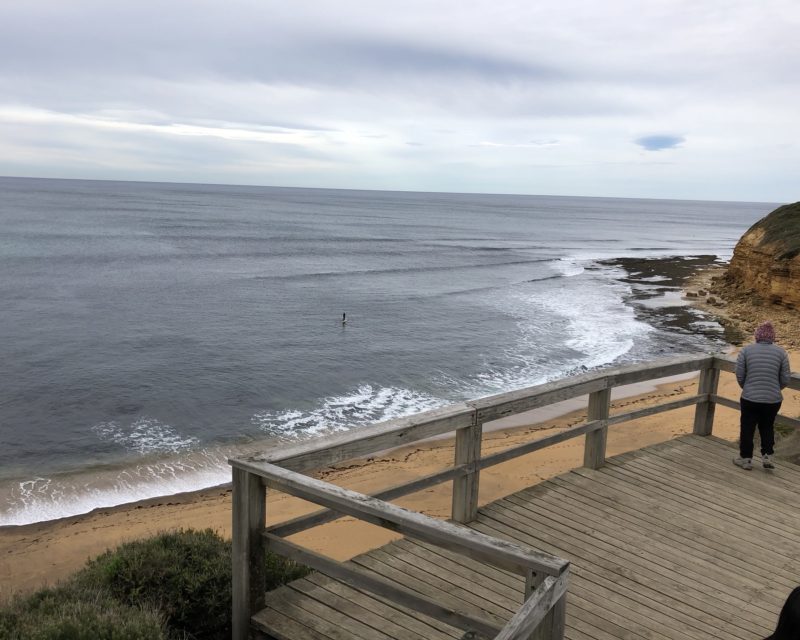 For holidaymakers, the sandy shoreline offers a closeup, boundary fence view of surfing action.  In the shadow of towering cliffs, reefs become exposed at low tide.  Dare to walk out a few metres on rocky reef, and only a stone's throw away, you'll see what it takes to catch a wave.
It may come as a surprise, but there's more to love about surfing than just waves.  Our morning trek was all the more special for sight of: lone wallaby watching us through eucalypts, a seal playing close to shore and brown hawk swooping to catch the day's meal.
Still, after two hours, it was agreed that all good things must come to an end.  This time there was a luxury hotel to return to.
With three dining outlets, aquatic and gym centre, spa, tennis court and children's trampoline, you could get by without leaving the 92-room complex.  Did I mention an 18-hole golf course?
Hibernating is another option.  There's complimentary Wi-Fi and coffee machine in spacious, modern rooms.  And a coastline panorama showcasing sunset and sunrise, or that sou' wester blowing dark clouds in from the sea.  That's assuming of course, you like opera.
The same breathtaking vista is available at all eateries in a hotel that demonstrates how architecture can create spaces to compare with — wait for it — nature's beauty.  Even perfunctory walkways cast a spell: white-coloured stone corridors curve to the building's arch and have all the reverence of an Asian cave temple.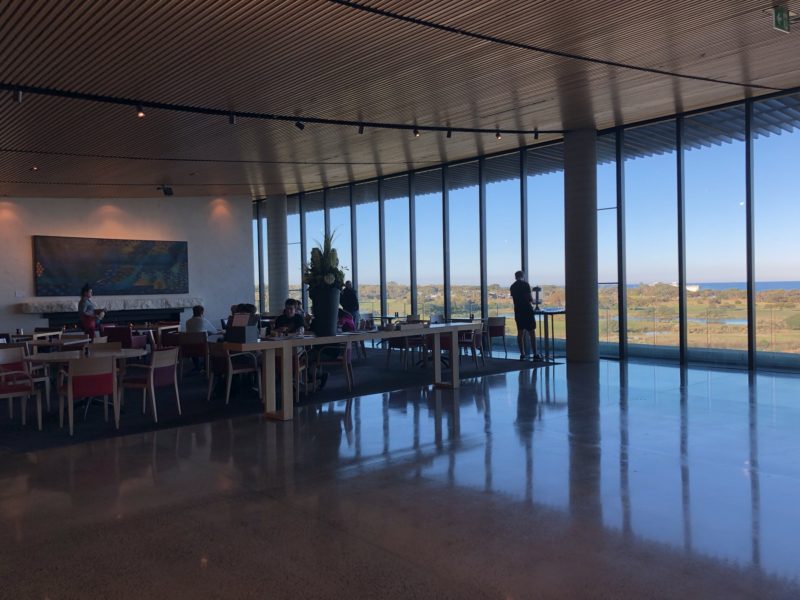 To fully appreciate the hotel's interior, it's occasionally necessary to ignore its inhabitants: families with children of all ages who have made the short trip down Princes Freeway to break free at a seaside resort.  So, be warned if you can't handle the sound of a four year-old blowing bubbles in his orange juice, interrupting the reverie of breakfast overlooking Torquay golf course.
It's a given that coastal dining is generally not capital city standard, but who heads to the beach for the meals anyway?  That said, the hotel's Number One restaurant won the region's 2016 Golden Plate Award.
A breadth of cuisine from snack food to fine dining is available.  That surfing staple — takeaway food from nearby town shops, is always a possibility.  Instead, we decided to treat ourselves.  As for an idea of hotel menus: Kennedy's Creek beef burger was a hit for lunch.  Favourite among meat-eaters for dinner was the red wine-braised beef cheek with pearl onions and Otway pine mushrooms, accompanied by green beans with puy lentils, lemon garlic dressing and salted ricotta.  Vegetarian selections were available, but the kitchen obliged by making a fresh pasta.  To finish, the whole family shared the one desert — lemon curd semi freddo with citrus salad.
2016 was a good year indeed for RACV Torquay Resort, which was recognised amongst TripAdvisor Travellers' Choice's best luxury Australian hotels.
Personally, I'm with local surfers who conspire to keep the best reef breaks a sworn secret.  Still, it's hard to imagine the idea of a coastal expedition in hedonistic comfort not catching on.  And if you're wondering if it's affordable …
Even if my car was guaranteed to be breakdown-free, I'd take out an RACV membership.  It comes with a hefty room rate discount on all RACV hotels.  Watch out for summer peak periods — but three days down the coast, in luxury, for less than the cost of shire rates for that dreamed-of holiday house.  Count me in.
Peter Dewar and his family visited the RACV Torquay Resort at his own expense.  For more information visit the resort's website.
* Photo credit: Esther Blanco and Mia Dewar.
Subscribe to my e-mail newsletter to receive updates.
We respect your privacy.
Unsubscribe at any time.