`You haven't seen anything yet' could easily be the catchcry of The Australian Music Vault, located at Arts Centre Melbourne.
As a `back of house' visit to one of the vault's storage areas revealed, there are over 680,000 items which could be displayed. And that list is growing daily as more artists and their families donate precious items.
The jumpsuit worn by Kylie Minogue in the music video I Can't Get You Out of My Head and a pair of her pink boots, a leather jacket owned by ACDC's Bon Scott, and memorabilia belonging to The Triffids are just some of the items awaiting their turn to appear in the free exhibition space dedicated to Australian contemporary music.
The items are part of Arts Centre Melbourne's Australian Performing Arts Collection, which documents Australia's circus, dance, music, opera and theatre heritage. Established in 1975, the collection includes costumes, designs, programs, photographs, posters, memorabilia and archival material.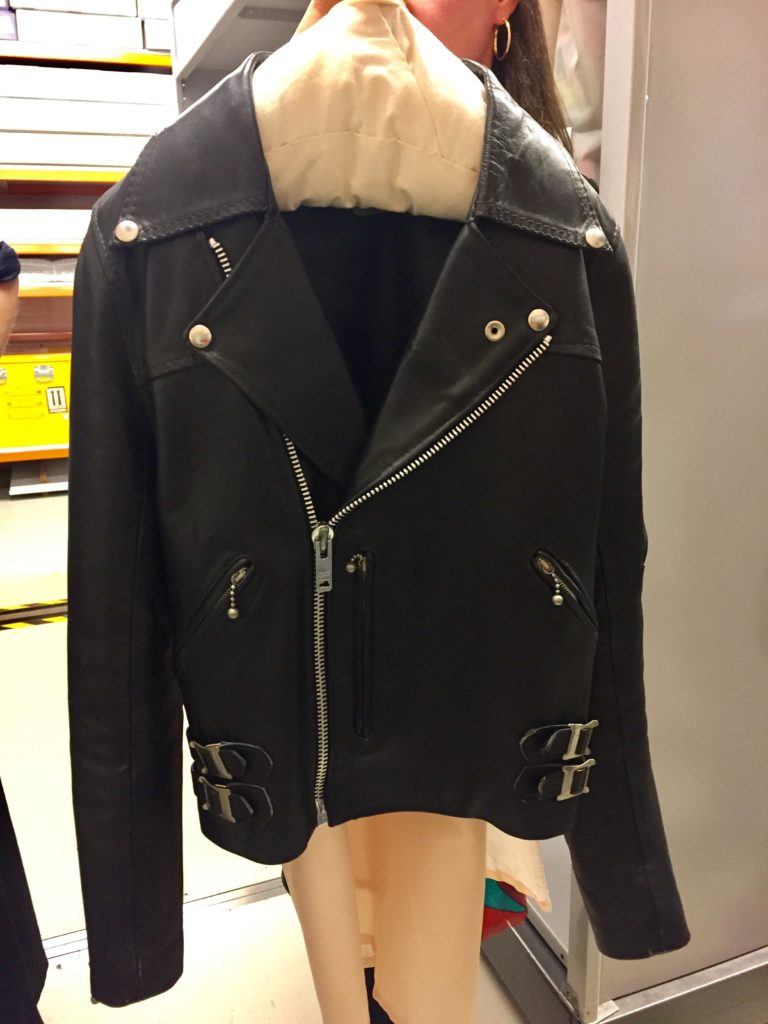 Seeing so many items in storage makes you realise what a great challenge it must have been for curators to choose the items to officially launch the Vault in December last year. But given the numbers flocking to see the free exhibition and associated digital and interactive experiences, their initial selections seem spot on.
Rather than displaying artists and bands individually, the exhibition groups them together by themes.
The Real Thing, for example, explores whether or not there really is an `Australian voice'  by looking at musical influences, lyric composition and the impact of performance venues on the Australian `sound' . Items currently featured in this area include handwritten and photocopied lyrics for To her Door by Paul Kelly, stage and performer passes for The Sunbury Festival, a tunic worn by Chrissy Amphlett of the Divinyls in the late 1980s and drumsticks used by Kram from Spiderbait.
Two Way Traffic looks at the careers of the many performers who have helped put Australian music front and centre on the world stage. Featured items include the jacket and trousers worn by Neil Finn of Split Enz, the top and skirt worn by Kylie Minogue in the In Your Eyes video, Maracas purchased by Peter Allen in Rio de Janeiro in 1977, a semi acoustic guitar used by Harry Vanda from The Easybeats and the school boy outfit worn by Angus Young of AC/DC.
The Wild Ones uncovers the role of the trailblazers whose creative approaches to playing, recording, performing and distributing music have helped shape the Australian music industry. Items showcased in this area include a performance costume worn by Aboriginal musician lJimmy Little in the mid 1970s and a hat worn by one of icons of the industry, Ian 'Molly' Meldrum.
Agents of Change delves into the role of music in responding to and affecting social change. Featured items include the gold record award for Treaty by Yothu Yindi and the Grammy Award received by Helen Reddy for I am Woman in 1972.
Items on display within the themes are rotating with items in storage, ensuring there's often new things to see.
The Vault also features a series of displays highlighting the power of music to bring people together across socio-economic, political, gender and geographical boundaries and the notion of "musical tribes". One of the first to be presented is Punk/New Wave, coinciding with the 40th anniversary of punk. This area looks at identity, belonging and the pivotal period of Australian music between 1977–85, with a focus on performers, venues and do-it-yourself recording, distribution and publishing.
There's also a display showcasing 2017 ARIA Hall of Fame Inductee Daryl Braithwaite and items from his personal collection.
Another highlight of the exhibition is The Amplifier which includes a short clip from the 1972 Sunbury music festival and clips from Countdown, the hit television show of the of the 70s and 80s.
Then there's the Vault's partnership with Spotify which allows you to collate the music you encounter throughout the exhibition to create a personal mix tape playlist to keep. As an added bonus, especially for Spotify novices, it's easy to set up!
Like the exhibition itself, it's ideal for those of us of a certain age to relive, or share, our musical history with family and friends.  Given the many items waiting to be displayed, it's set to be a long and very colourful journey!
The Australian Music Vault is located at Arts Centre Melbourne, 100 St Kilda Road Melbourne and is open 9am to late Monday to Saturday and 10am to 5pm Sunday and Public Holidays. Entry is free. Visit the Australian Music Vault website for more information.
*Photo credit: Jim Lee
Jenny Burns toured the Australian Music Vault as a guest of Arts Centre Melbourne.
Visit travelswithjb,com.au-exhibitions for more exhibition reviews.
arts centre melbourne

,

music

,

review
Subscribe to my e-mail newsletter to receive updates.
We respect your privacy.
Unsubscribe at any time.