The joyous musical Come from Away, playing at Melbourne's Comedy Theatre, perfectly illustrates that good things can come from catastrophic events.
The stage show is based on the experiences of residents of Gander, a small town in Newfoundland, and the air travellers who spent five days there after the September 11 terrorist attack in the United States. As Come From Away shows, those experiences were often very positive and sometimes life changing for both the townsfolk and the visitors despite the stresses they all faced.
Canadian husband-and-wife team David Hein and Irene Sankoff who co-wrote the show's book, music and lyrics interviewed residents and some of the 6700 travellers who were grounded in Gander when US airspace was closed to all incoming air traffic.
The result is a 100 minutes non-stop, highly energetic and uplifting stage show.  At the same time Come From Away doesn't shy away from the impact of 9/11 including the rise of islamophobia and the devastating toll on those who lost loved ones.
However, the underlying theme of the show is the positive impact kindness, generosity and caring about your fellow human beings can have on those suffering unbelievable stress, uncertainty and sadness.
Through descriptive songs performed with great enthusiasm by the cast and on-stage band and often humorous dialogue we learn how the passengers were initially forced to stay on their aircraft and were kept in the dark about what was happening.
Meanwhile the residents of Gander were busy preparing for when the passengers did disembark. They needed to arrange accommodation, food and other necessities – even clothing as the passengers weren't allowed to take their luggage off the aircraft. There was also the need to ensure access to phones to ring loved ones and translators to overcome language and cultural barriers.
The experiences of passengers and townsfolk are told by a cast of 12 whose characters are either based on real people or composites of those people Hein and Sankoff interviewed.
The 12 actors each play one lead and then numerous minor characters with just slight changes of costume, accent or body language.
Joe Kosky, for example, plays Gander's police chief Oz, an airline passenger, a Spanish speaking PE Teacher and a Jewish rabbi. Emma Powell plays the school primary teacher Beulah and a drunken airline passenger with a love of singing the theme from the movie Titanic.
Douglas Hansell and Joseph Naim play gay passengers Kevin and Kevin. Hansell is also the union leader of the town's bus drivers, who have been on strike, while Naim plays vilified Muslim passenger Ali.
Other lead characters include airline captain Beverley, played by Zoe Gertz, cynical New Yorker Bob, played by Kyle Brown, and novice news reporter Janice played by Manon Gunderson-Briggs.
Sarah Nairne plays Hannah, a mother whose firefighter son is missing in New York, Kat Harrison is SPCA volunteer Bonnie, who is concerned for the many and varied animals on the planes while Gander's mayor is played by David Silvestri.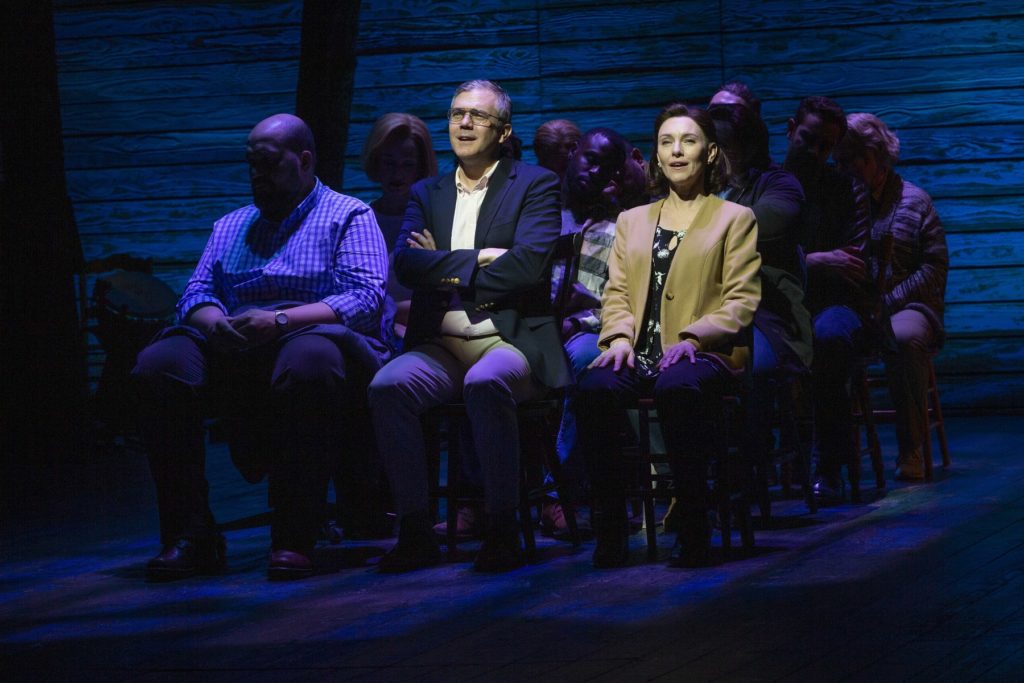 Phillip Lowe is shy Englishman Nick, a passenger who falls for fellow passenger Texan Diane, played by Natalie O'Donnell.
The 12 work perfectly as a team and expertly present often challenging choreography, especially scenes which illustrate passengers travelling on planes or buses.
Lighting plays a major role in illustrating the different settings which include the local coffee shop, the school and the cargo holds of aircraft.
Given the many roles they play and the non-stop action you would expect the actors would be exhausted by the end of the show. Yet their energy levels in the final number were just as high as in the opening number. The same could be said for the seven-piece orchestra which also appears on stage and plays the show's Celtic-styled Newfoundland music with great gusto.
This current production of Come From Away is the third to grace The Comedy Theatre since it debuted in July 2019. Having not seen earlier productions it's hard to compare this production to previous shows but colleagues who have seen all three are as enthusiastic about this offering as they were the previous two.
It's easy to see why.  The show has an extremely skilled cast. It's moving, funny, has a wonderful upbeat vibe and meaningfully tells memorable stories about real people and events.
Come From Away is playing at the Comedy Theatre until October 30 before opening in Sydney on November 5.  For more information visit the Come From Away website.
*Photo credit: Jeff Busby
Jenny Burns attended the opening night of Come From Away as a guest of the producers.
live shows

,

Melbourne

,

reviews
Subscribe to my e-mail newsletter to receive updates.
We respect your privacy.
Unsubscribe at any time.