Watching Andrew Scott in the stage production of Present Laughter it's easy to see why he's the "man of the moment" in the UK.
Scott gives a masterful performance in the revival of Noël Coward's semi-autobiographical, blistering 1939 comedy.
Australian audiences can now see that performance thanks to National Theatre Live's screening of a performance of the play, staged at England's Old Vic Theatre last year.
Scott plays Garry Essendine, a charismatic star of the stage, whose life is in a state of flux. He's not coping with his age (early 40s), his receding hairline and an upcoming tour of Africa.
He's conceited, demanding, spoilt and, by his own admission, is acting most of the time.
At the same time he's a rather sad and lonely character. His only friends seem to be his business associates and staff who help protect him from his one night stands – which in this contemporary production of the play include both men and women — and his adoring fans.
Those fans include the earnest and slightly mad would-be playwright (Luke Thallon) and aspiring actress Daphne Stillington (Kitty Archer).
Despite practical advice from his long serving, faithful and maternal secretary (Sophie Thompson) and caring, but rather blunt and controlling, ex-wife (Indira Varma), Garry's life is chaotic.
It becomes even more complicated after he has a one night stand with Joe (Enzo Cilenti), the partner of his manager Helen Lyppiatt (Suzie Toase). Joe (Joanna in the original production) is already in an illicit relationship with Garry's producer Morris Dixon (Abdul Salis).
Scott's comic timing and physical actions brilliantly bring all of Essendine's personality traits to life on the stage.  He's equally as believable as an arrogant, overconfident actor and a vulnerable,  insecure man. It's easy to understand why Scott's in such demand on the London stage, and now, thanks to roles as the psychopath Moriarty in Sherlock and the "hot" priest in Fleabag, on the small screen.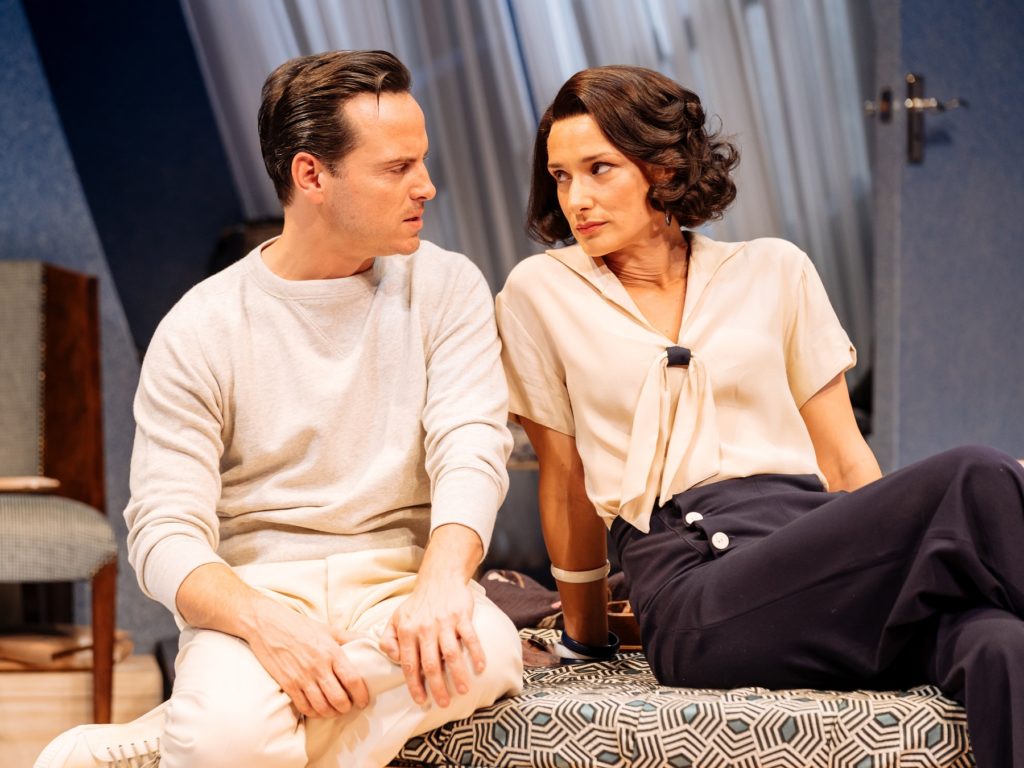 Varma and Thompson give excellent performances as the two women who you sense do care about Garry despite his character flaws. The comic timing of Thallon is one of the show's many highlights.
Despite the character of Garry being a lost soul at times (Coward originally titled the play Sweet Sorrow ), Present Laughter  is a funny and enjoyable production thanks to the very witty dialogue and great acting from all cast members.
Present Laughter is screening at selected cinemas from February 1 for a limited season.  Visit the Sharmil Films website for more information.
*Photo credit: Manuel Harlan.
movies

,

national theatre live

,

reviews
Subscribe to my e-mail newsletter to receive updates.
We respect your privacy.
Unsubscribe at any time.