Victorian Youth Theatre's Babe the Sheep-Pig proved the perfect first live show for a six-year-old boy.
While I was sure his nine year old brother (an experienced live show attendee)  would enjoy the production,  I was  concerned he might be too young to appreciate the joys and etiquette of live theatre. My plan to see Young Australian Broadway Chorus' show Honk!JR on the same day added to this concern.
I needn't have worried, he hardly moved during Babe and rated it 10 out of 10!  He wasn't as engaged in Honk but still sat quietly.  While his older brother initially gave Babe 10 out of 10 that dropped to a nine as he preferred Honk – which then received the perfect score!
While there are similarities between the two shows in that both are stories about animals, there are differences which may explain the their varying levels of enjoyment. Honk!JR  is a musical and while there is some singing and dancing in Babe, there is far more dialogue.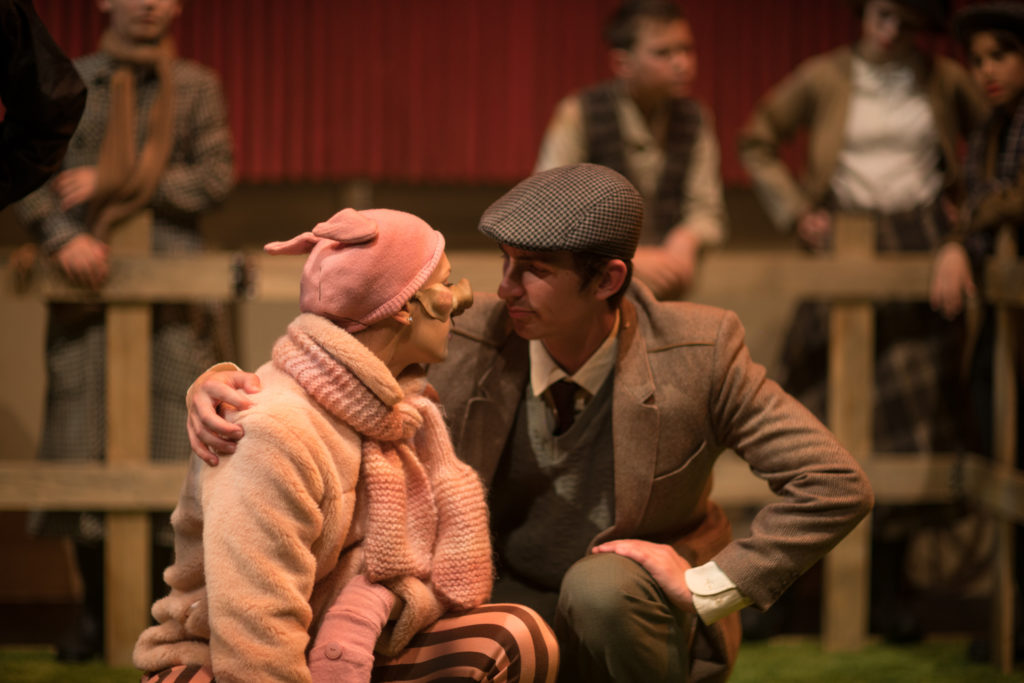 Based on the movie Babe, Babe the Sheep-Pig tells of Farmer Hogget who wins Babe, a clever little pig, in a raffle. The farmer's wife intends to prepare Babe for the family's Christmas dinner, but Fly, a kindly sheepdog, adopts Babe and begins teaching him how to be a sheepdog or, in this case, a sheep-pig. Babe proves himself to be a hero, protecting Farmer Hogget's sheep from a band of thieves. He even manages to win the heart of Mrs Hogget. Babe then shows his skill as a sheep-pig.
Both boys voted Fly their favourite character and the opportunity to have a picture with Fly and Babe at the end of the show was another highlight for both of them.
Adapted from the Olivier Award-winning West End production, Honk! JR is based on the story The Ugly Duckling by Hans Christian Andersen.
Ugly looks quite a bit different from his darling duckling brothers and sisters. The other animals on the farm are quick to notice and point this out. Feeling rather sad, Ugly finds himself on an adventure of self-discovery, all the while unknowingly outwitting a very hungry cat. Along the way, Ugly meets a number of characters and discovers being different is not a bad thing.
The singing and many costume changes in this production particularly appealed to the nine year old.  Adults are also more likely to enjoy Honk thanks to the script, which features a number of humorous lines.
As I later discovered  Babe is recommended for kids from six years of age and Honk from eight years. While there was nothing in Honk to suggest its content isn't suitable for younger kids, my six year old `companion' might not be the only youngster to prefer Babe to Honk! 
Both Babe the Sheep-Pig and Honk!JR are playing at Southbank Theatre, the Lawler until January 28.
Visit the Victorian Youth Theatre website for more information and tickets for Babe the Sheep-Pig and Young Australian Broadway Chorus for Honk!JR.
*Jenny Burns (and her young companions) attended both shows as a guest of the production companies.
live shows

,

Melbourne

,

reviews
Subscribe to my e-mail newsletter to receive updates.
We respect your privacy.
Unsubscribe at any time.