Mighty roars rang out at the opening night of Walking with Dinosaurs – the Arena Spectacular.
This was my first experience of the world acclaimed production (it originally started in Australia in 2007) and I was extremely impressed.
The work that has gone into creating the dinosaurs is amazing – as is what they can do. We see them fighting, eating, snorting, showing their maternal instincts- and of course roaring!
The show features 20 dinosaurs representing 10 species including Tyrannosaurus Rex who got the biggest cheer from the crowd. There are also Plateosaurus and Liliensternus from the Triassic period, the Stegosaurus and Allosaurus from the Jurassic period and Torosaurus and Utahraptor from the Cretaceous period. The largest of them, the Brachiosaurus, is around 11 metres tall and 17 metres from nose to tail.
According to Global Creatures, the creators of the show, many of the dinosaurs have `evolved' since the last tour and now feature distinctive display feathers, head crests and tail fans, reflecting recent discoveries about the physical nature of these massive creatures.
It's easy to understand why it took a team of 50 including engineers,fabricators, skin makers, artists and painters, and animatronic experts a year to build the production. You can also see why it takes a team of three people to operate one dinosaur – each weighs around 1.6 tons.
The show also has an educational component through the narration provided by paleontologist Huxley (played with enthusiasm by Andrew Blackman).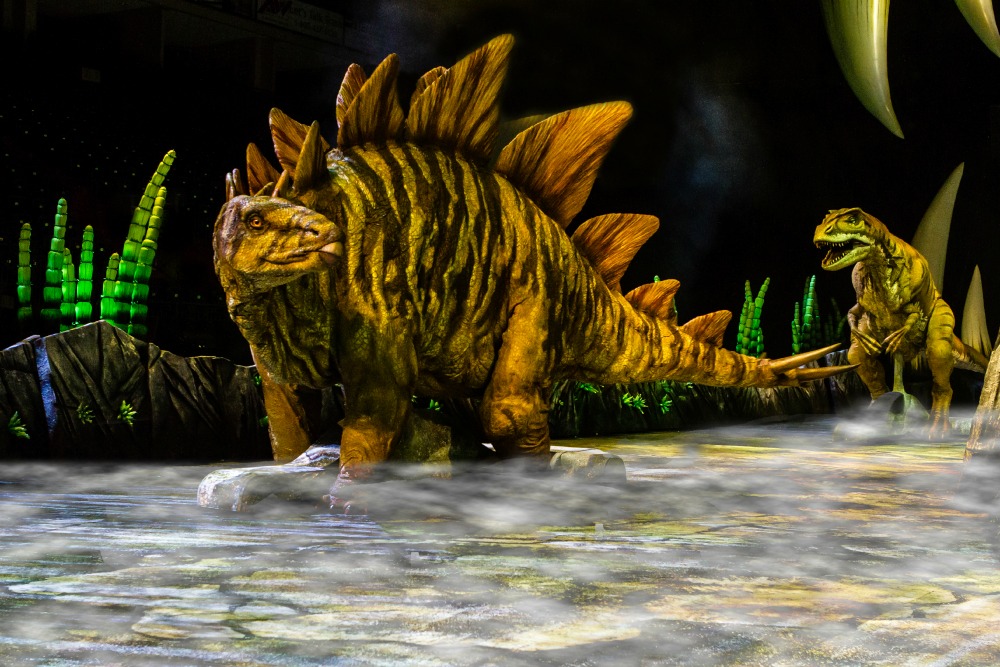 He explained how dinosaurs and indeed the earth evolved. We learnt how carnivorous dinosaurs evolved to walk on two legs  and how the herbivores fended off their more agile predators.
Creatively designed sets, lighting and projections explain the splitting of the earth's continents, the transition from the arid desert of the Triassic period to the lush green prairies and forces of the later Jurassic. Oceans form, volcanoes erupt, a forest catches fire – all leading to the impact of the massive comet, which struck the earth, and forced the extinction of the dinosaurs.
There were plenty of children on the opening night and most seemed totally involved in the show. As is so often the case with kids, the biggest cheer seemed to come with the exploration of `dinosaur poo'! But there were also plenty of cheers and laughs with the interaction between a mother and baby T-Rex.
Overall it was an educational and fun night out.
Jenny Burns attended the opening night of Walking With Dinosaurs in Melbourne on March 25 as a guest of Global Creatures.
Subscribe to my e-mail newsletter to receive updates.
We respect your privacy.
Unsubscribe at any time.