Winnie-the-Pooh stories have long delighted children all around the world yet there wasn't much joy for their `creators'.
That's the main message to come from Goodbye Christopher Robin. The movie explores the bittersweet story behind the creation of the books by AA Milne.  The books were based on AA's son Christopher and his toys.
In the movie AA (Domhnall Gleeson), a successful playwright and novelist, returns from World War 1 suffering from shell shock. Unable to write in London he takes his wife Daphne (Margot Robbie), their young son Christopher (Will Tilston) and Christopher's nanny Olive, aka Nou (Kelly Macdonald) to the Ashdown Forest in Sussex. His aim is to write an anti-war book but, suffering from writer's block, he spends more time contemplating than writing. As a result the party-loving Daphne returns to London.
When Nou takes leave to visit her sick mother AA and eight year old Christopher (who the family calls Billy Moon) end up spending several weeks together.
They bond by working on projects around the house and on walks through the forest. AA comes up with the idea for Winnie the Pooh as a result of Christopher's words and actions with his father and his favourite toys.  AA's friend, illustrator E.H. Shepard (Stephen Campbell Moore), comes to sketch his ideas and the rest, as they say, is history!
Suddenly the family become `celebrities'. Sacks of fan mail arrive and everyone wants `a piece' of Christopher. All his time is taken up with public appearances and interviews. It's not until Nou is sacked (after falling in love with a local villager) that AA discovers his son's punishing schedule. He then puts an end to the books and Christopher's public appearances.
But, as we discover in discussions between AA and the `older' Christopher (Alex Lawther), the damage was done after the first book was published.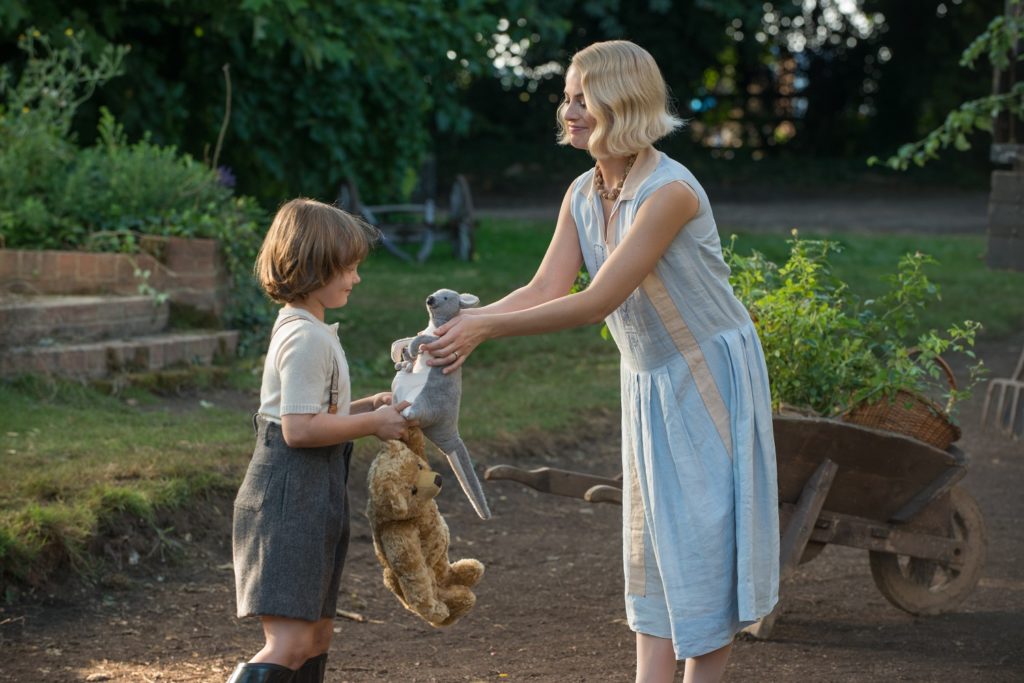 Christopher is continually bullied for being `Christopher Robin' through school and even during army training.  Even more galling is his father sharing their personal experiences and stories with the rest of the world.
Domhnall Gleeson gives a strong performance as the self-absorbed, emotionally stunted and rather sad AA.
Margot Robbie is just as good. She comes across as cold, tactless, ambitious and uncaring about her son but then she will do something that surprises. Both would seem typical English parents of the time as shown by Christopher being sent to boarding school at a very young age.
Kelly Macdonald is very believable as Nou, the only person who seems to really love Christopher. Will Tilston, who plays the 8-year-old Christopher is outstanding.  He expertly portrays the boy's understanding of his father's pain, his love for Nou and his dislike of being in the spotlight.
For me the acting was one of the movie's several highlights. The cinematography was another. The beauty of the Ashdown Forest is captured brilliantly. Then there's the interest the movie created in discovering what really happened to the main characters. Sadly it's not a particularly happy story.  But then as Goodbye Christopher Robin suggests there was never much happiness in the Milne household!
Goodbye Christopher Robin in currently showing around Australia.
*Picture credit:  David Appleby © 2017 Twentieth Century Fox
Visit travelwithjb-movie-reviews for more movie reviews.
Subscribe to my e-mail newsletter to receive updates.
We respect your privacy.
Unsubscribe at any time.