Italian bass Ferruccio Furlanetto is world renowned for his portrayal of Don Quixote in Jules Massnet's opera Don Quichotte.
Melbourne audiences saw why on the opening night of Opera Australia's production of Don Quichotte at Art Centre Melbourne's State Theatre.
At the same time there were some brilliant performances from Australian cast members, with Sian Pendry and Warwick Fyfe standouts.
Surprisingly Opera Australia has never presented Don Quichotte in Australia.  This production, which premiered in 2009, comes from San Diego Opera.
As the name suggests Massenet's opera, with a libretto by Henri Caïn, is inspired by the exploits of Spanish author Miguel de Cervantes' Don Quixote. The opera is based on a play by Jacques Le Lorrain, with its five acts spotlighting the quest by ageing self-proclaimed knight-errant Don Quixote to retrieve a stolen necklace from the bandit Ténébrun in the hope of winning the heart of the beautiful Dulcinée (Pendry). He's accompanied on his adventures by his faithful squire Sancho Panza (Fyfe).
As a result of his exploits  Don Quixote is captured by bandits, has a run-in with some windmills and ultimately has his heart broken.
Furlanetto expertly portrays the delusional Don Quixote's determination, compassion and many eccentricities.
Fyfe is marvellous as Sancho, bringing his character's comical side to life. It's obvious while he's often exasperated by Don Quixote's actions, he's also very fond of him.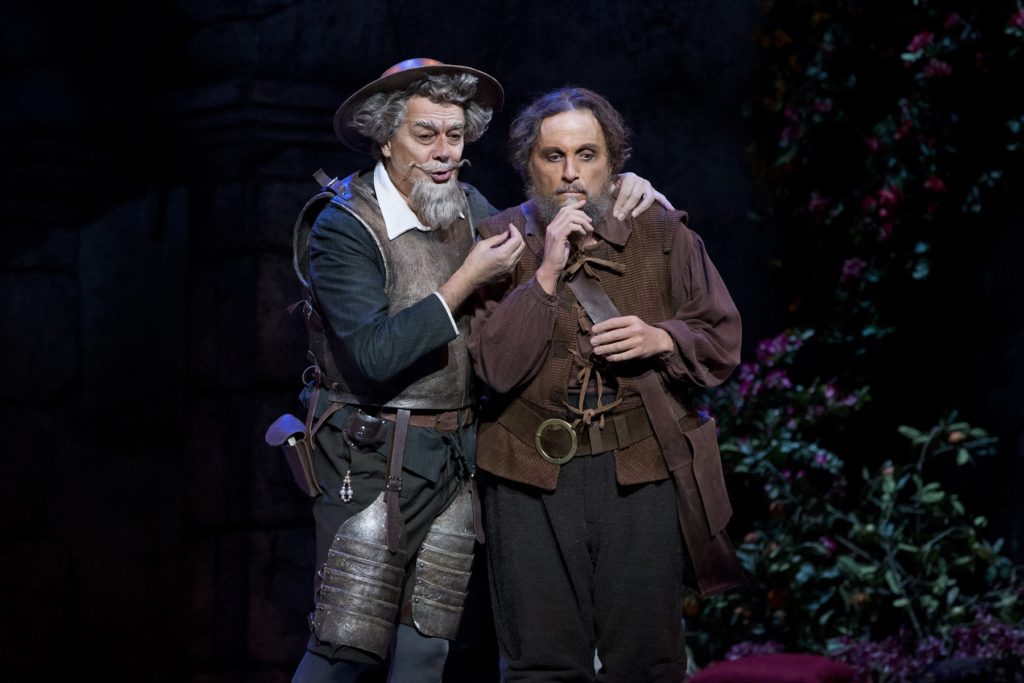 Pendry shows both her singing and acting skills.  While her Dulcinée is spoilt and vain she also shows her humanity after her actions cause Don Quitoxe so much distress.
There are also strong performances from Graeme Macfarlane, John Longmuir, Jane Ede and Anna Dowsley, all playing Dulcinée's male admirers. Longmuir's swordfight with Furlanetto is a highlight of act one.  Opera Australia's choir once again shows its great talent.
Interestingly, Don Quixote isn't renowned for any particular piece of music, which is a little surprising given it features so many beautiful arias and stunning orchestral pieces. As an added bonus this production includes excerpts from Massenet's ballet Le Cid played during the set change following the first act.
Another feature of opera is its recreation of old world Spain complete with colourfully dressed flamingo dancers. The windmills in the second act are a major highlight.
It's this staging together with the beautiful music, the performance of the cast and the chance to see an opera that's so rarely performed which makes Don Quichotte so appealing.
Opera Australia is staging Don Quichotte at the State Theatre on May 9 and 12.  Visit the Opera Australia website for more information.
Jenny Burns attended the opening night of Don Quichotte as a guest of Opera Australia.
*Photo credit: Jeff Busby
Visit travelswithjb.com.au-live shows for more show reviews.
live shows

,

Opera Australia

,

reviews
Subscribe to my e-mail newsletter to receive updates.
We respect your privacy.
Unsubscribe at any time.