Flores is a tourism frontier, an island overflowing with unspoilt natural attractions.  A new luxury property, Ayana Komodo Resort, means you can enjoy its wonders and a little indulgence at the same time, reports Peter Dewar.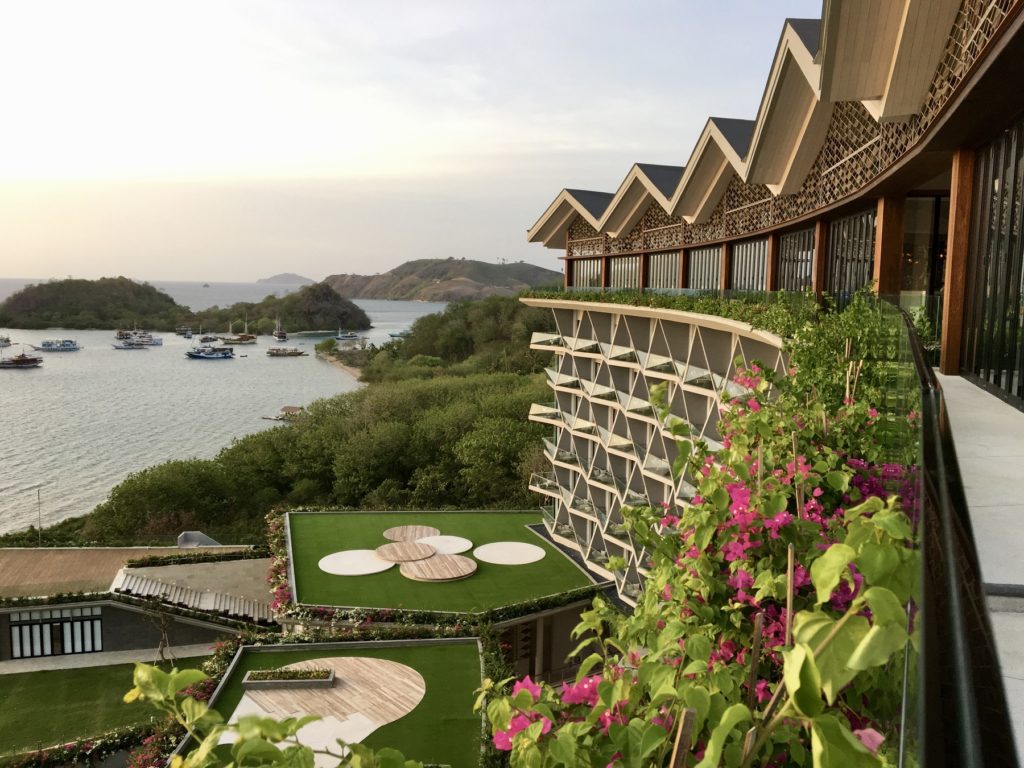 Manta rays hover above us like gigantic underwater birds.  Flesh-eating monster lizards slither around village huts.  Next stop: lazing by the hotel pool with a cocktail in my hand.  I love adventure, but I'm not beyond a little pampering.
A mere 90 minutes from Bali by aeroplane is Flores, an Indonesian island with serious cred among off-the-beaten-track travellers.  Rare wildlife, marine sanctuaries, pristine waterfalls, spider web rice fields and volcanoes filled with water of changing colours: just the beginning of natural attractions for adventure-seeking holidaymakers to discover.
Tourists aren't the only ones excited by Flores.  On this dot in the Indonesian Archipelago, scientists find living proof of 'island gigantism', the tendency for indigenous wildlife to grow larger than mainland species.  The Komodo dragon owes its celebrity status to this biological phenomenon.  And in 2003, Flores made headlines after the remains of a small, prehistoric human-like creature nicknamed 'the Hobbit' were discovered.
At Komodo airport in the dusty arid hills of western Flores, there's little sign of flowers that Portuguese colonists named the island after.  The red-flaming trees, which caught the attention of 16th century explorers, are native to Flores' eastern coast.  Still, there's a blossoming of sorts in the western harbour town, Labuan Bajo.  A new, futuristic-looking airport terminal is testament to a boom in tourists on their way to marine sanctuaries and UNESCO heritage wildlife of nearby Komodo National Park.
Soon after we leave the airport on our way to the hotel, our taxi passes through town comprising a stretch of shops where dive operators outnumber local traders two to one. The winding, narrow road then opens up to a breath-taking panorama.  Beyond a bustle of wooden ships anchored in the crowded port, a vast landscape of blue ocean and mountainous islands extends into the distance.
The postcard picture has us wide-eyed, excited about the five day holiday that lay ahead.  Our driver adds to the moment in his best, stilted English: 'Thank-you for choosing to stay at Labuan Bajo.'  The welcome is accompanied by a gentle smile, as he crosses an arm over his chest bowing slightly, with a genuineness difficult to feign.
That won't be the last time we'll feel touched by Flores' hospitality.  Traditional gesturing, good humour and endless attentiveness remain warm images of our trip.
After fifteen minutes, we reach our destination: Ayana Komodo Resort, which was nominated as 'World's Leading New Resort' by World Travel Awards 2018.  The multi-storey hotel rises from the sea, snuggling into a cliff-face, gifting all rooms inspiring ocean views.  Angular balconies puzzle us until we learn they were designed to imitate a Komodo dragon's scales.  The suite is large, spacious, and so is the bed.  Finishes are pastel light and breezy.  Even by today's trend of luxury resorts imitating art galleries, there's plenty to admire about Flores' first five-star resort.
That's not to say our holiday home is perfect.  Rates are discounted for a reason … say, glitches getting sorted.  A problem with the sanitation system has us changing rooms.  The wooden jetty and circular landing is hardly friendly to bare feet.  With another month to the opening of our resort's dive-centre, we must make our own way into town to organise a scuba-diving excursion.
Without leaving the hotel, there's still plenty to do: snorkelling and chasing fish around the nearby coral reef, canoeing and paddle boarding, not to forget that long-standing resort tradition – lazing beside the pool.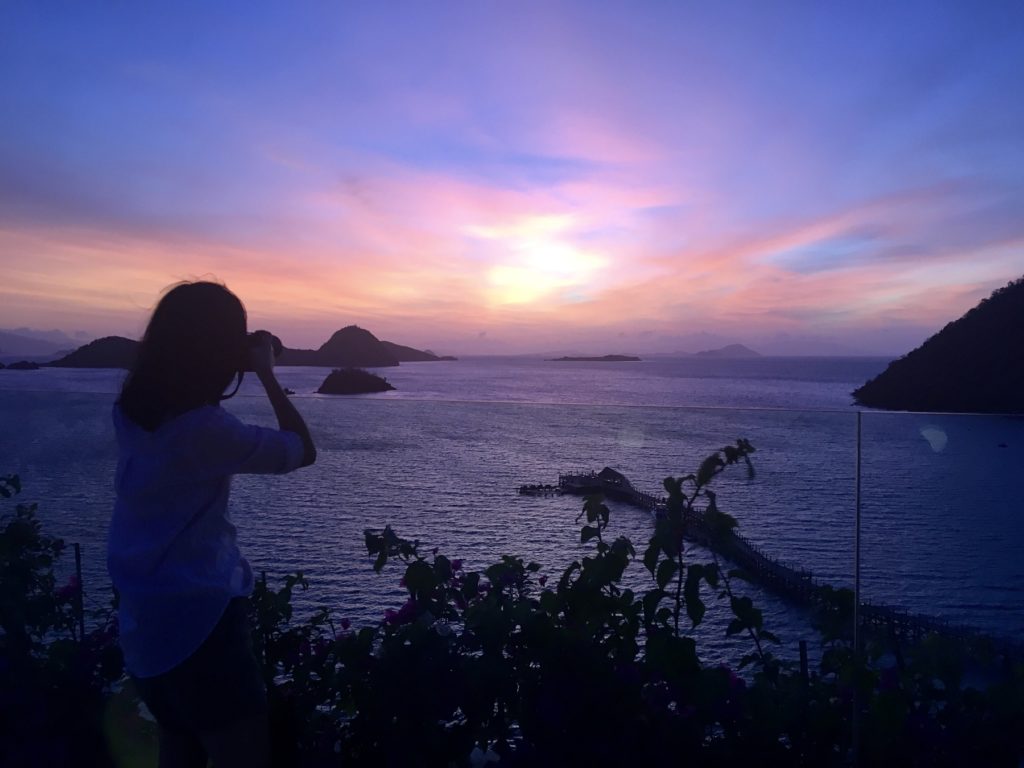 Day's end is spent lounging in the Rooftop Bar and taking in the daily show – a large reddish sun sinking below an ocean horizon, painting the sky shades of orange and pink.
From three stylish restaurants – RINCA, HonZen and beachfront, Kisik Grill – there's a wide range of Indonesian, Japanese and Western cuisine to enjoy.  As a rough guide, dinner and drinks for our family of three cost just over $100.  Some guests prefer to take a taxi to local eateries close-by, a less expensive option.  Pizza for lunch and seafood soup or curry at dinner at the hotel are favourites for us.  For a treat, we handpick lobster, prawns and fish from the hotel's daily catch to be flame-grilled or made into a pasta dish.
General Manager Fernando Arroyo Fassio mingles with guests during mealtimes. Pointing out to sea, he tells us, while the coast may be the playground of tourists, a world of largely unexplored natural attractions lays further inland.  Kelimutu volcano, traditional villages … so much to see on land, but for the moment, the following day's scuba expedition exercises our minds.
We aren't disappointed – encountering sea turtles lazing among coral that resembles giant fungi; and on a second dive, kneeling on the ocean floor peering at manta rays swimming close-by.  Floating weightlessly metres below the surface to the lonely sound of one's breath through a regulator is an experience adding an otherworldly vibe to any holiday.  Rarely though, is diving with exotic sea creatures so accessible.
The finale is our resort's full day excursion to Komodo National Park.  This tourist hot spot is made up of nearly 30 islands and was initially established in 1980 to protect the Komodo dragon.  Selected among New7Wonders of Nature, the region now aims to preserve the the entire sea and land biodiversity of the region.
It takes a little over one hour in the hotel's luxury power boat to reach Padar Island.  We climb endless steps to the island's mountainous peak, but racing pulse and breathlessness are worth the magnificent ocean view of surrounding islands.  Back down to the boat, and a short trip to wallow in the warm water of a pink-sanded beach.  The hotel has prepared lunchboxes, which we eat aboard the boat, hurtling across deep blue seas to our next stop: a small, sandy outcrop that seems to appear out of nowhere, and the chance for another dip.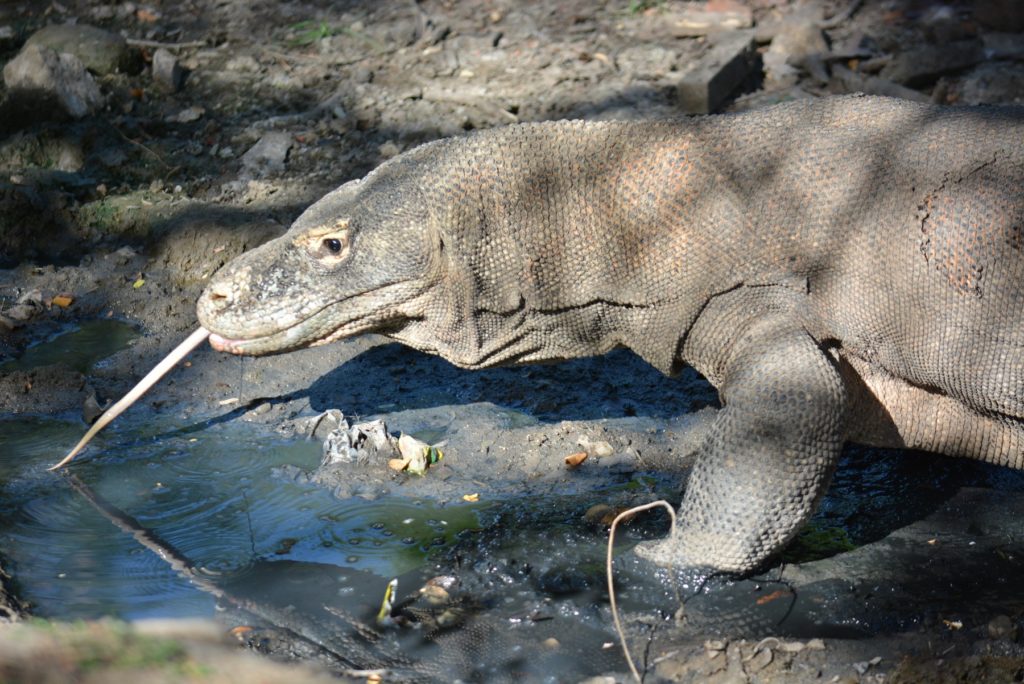 Next, and the reason we'd travelled to Indonesia in the first place, is Rinca Island for a tour strolling among three metre monitors capable of taking down a wayward buffalo.  These prehistoric-looking creatures, resting in the shade with their devilish, forked tongues flicking in and out, seem docile enough – but our guide, who by the way clutches a long stick – assures us the world's scariest lizards can outrun humans.
Times up.  It's a wrap for our December getaway.  There's more to see, and who can tell how long this unique tourist destination will go undiscovered?  A wooden statue of the iconic dragon sitting on the mantelpiece stands as a reminder of our fascinating Flores adventure, but also a totem calling us to return.
Getting There: Flights to Labuan Bajo leave daily from Denpasar, Bali. Visit Ayana Komodo website for more information about the hotel.
*Photo credit: Esther Blanco and Mia Dewar.
The Dewar family travelled to Flores at their own expense.
Flores

,

Indonesia

,

Komodo
Subscribe to my e-mail newsletter to receive updates.
We respect your privacy.
Unsubscribe at any time.