A joyous presentation of a very funny play ensures Artefact's Theatre Co's production of The Importance of Being Earnest is extremely entertaining.
Indeed my companion, a keen theatre goer, proclaimed it one of the most enjoyable shows he has seen this year.
It's easy to understand why. Presented in the intimate St Martin's Youth Arts Centre in South Yarra, the actions and expressions of the cast were clearly visible.  These actions, together with simple but effective sets and Victorian era costumes, perfectly complemented Oscar Wilde's very witty and satirical dialogue.
Set in a world where class, society and fashion are everything, The Importance of Being Earnest tells of two bachelor friends Jack Worthing (Ross Dwyer) and Algernon Moncrieff (Mark Yeates). Jack has invented a fictitious brother, Ernest, whose wicked ways afford Jack an excuse to leave his country home from time to time and journey to London, where he socialises with Algernon.
During his London sojourns, Jack under the name Ernest, has won the heart of Algernon's cousin Gwendolen Fairfax (Olivia Solomons), partly because she desires to marry someone with the confidence-inspiring name of Ernest. But when Jack asks for Gwendolen's hand from her mother, the formidable Lady Bracknell (James Cutler), it's refused as he has no idea of his lineage.
Returning to the country home where he lives with his ward Cecily Cardew (Cazz Bainbridge) and her governess Miss Prism (Suzanne Sandow), John finds that Algernon has also arrived under the identity of the non-existent brother Ernest. Algernon falls madly in love with the beautiful Cecily, who has long been enamoured of the mysterious, fascinating brother Ernest. With the arrival of Gwendolen and then Lady Bracknell chaos erupts.
The comic timing of all cast members, on opening night, was spot on and all were totally believable in the roles they played. Yeates' smug smile, together with the delivery of his lines, ideally illustrated Algernon's insincerity and sneakiness.  Dwyer's portrayal of Jack's many emotional moments was played to perfection.
There were understandably loud cheers and laughs for Cutler's hypocritical and pompous Lady Bracknell.  His delivery of some of the play's best known lines was perfect.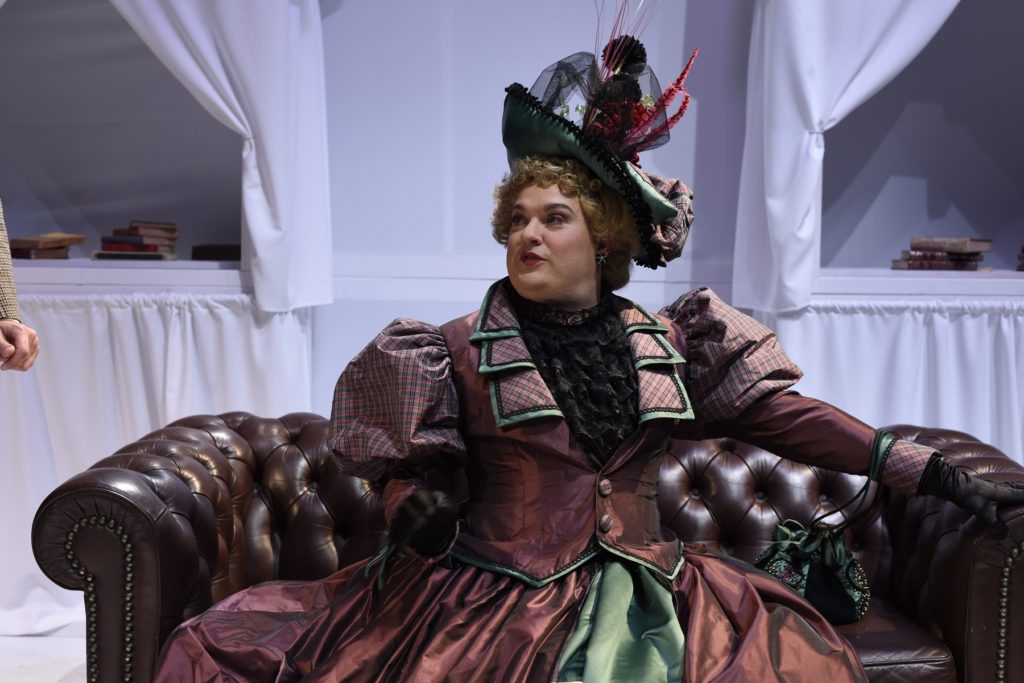 Solomons and Bainbridge were funny and believable as were Sandow's interaction with her 'love interest' the Rev Chausible (Frank Handrum). Thomas Henry Jones' performance as the butler Lane in Algernon's home and Merriman in Jack's country establishment was another standout thanks, in part, to his comic acts.
This is the first Artefact Theatre Co. production I have seen. Given the quality of this production it won't be the last!
The Importance of Being Earnest is playing at St Martin's Theatre until April 7.  Visit the Artefact Theatre website for tickets.
Jenny Burns attended the opening night of The Importance of Being Earnest as a guest of Artefact Theatre.
*Photo credit: Amy Gubana
Visit travelswithjb.com.au-live shows for more show reviews.
Artefact Theatre

,

live shows

,

review
Subscribe to my e-mail newsletter to receive updates.
We respect your privacy.
Unsubscribe at any time.