Barnum the Circus Musical has, in recent times, presented theatre companies staging the 1980 Broadway hit with several challenges.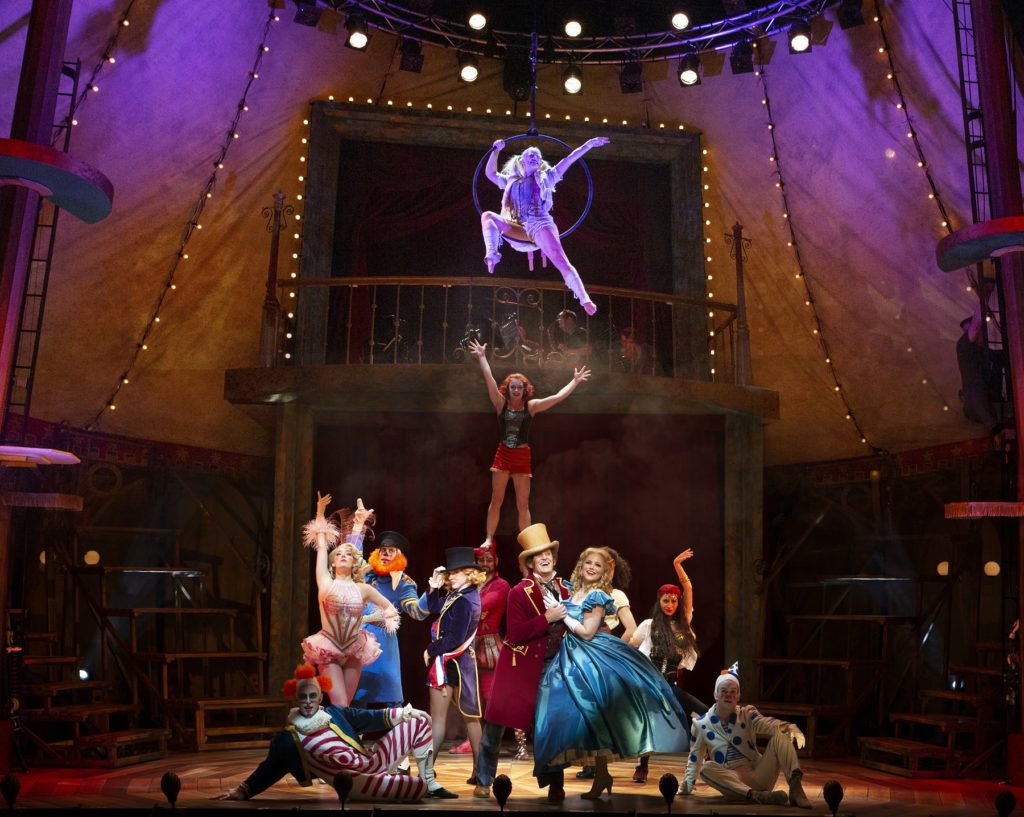 Many critics believe the musical, with the book by Mark Bramble, lyrics by Michael Stewart and music by Cy Coleman, is rather disjointed and pedestrian.
Then there's the glitzy 2017 movie, The Greatest Showman, staring Hugh Jackman which also spotlights the colourful and rather dubious career of  PT Barnum.
Thanks to excellent performances by the cast, a new Australian production of Barnum, playing at Melbourne's Comedy Theatre, overcomes these challenges.
Leading the way is Todd McKenney as Barnum. On opening night he enthusiastically and expertly sang, performed magic tricks and even successfully walked on a tightrope.
While many believe Barnum was a shyster who exploited the vulnerable, McKenney's Barnum isn't an evil man- he's more of a dreamer albeit with very questionable ethics and business practices. No doubt McKenney's interaction with the audience added to this perception.
The other standout performance came from Kirby Burgess as the Ringmaster.  Her role is extremely demanding as she is required to play a number of different roles, including numerous male characters. She did this most successfully and at the same time spectacularly sang, danced and performed challenging aerial feats.
Rachael Beck's performance as Barnum's long suffering wife Charity and Suzie Mathers as another of his loves – Swedish singer Jenny Lind, added to the show's appeal. Their singing and acting skills ensured both were very believable in their roles.
They were ably supported by Joshua Reckless and Akina Edmonds as two of Barnum's most famous side-show acts – Tom Thumb and Joice Heth.
Another of the show's highlight was the work of the ensemble. As well as demonstrating such circus skills as juggling, unicycling, aerial acrobatics and clowning, these talented young performers also sang and danced.
It came as no surprise to discover the National Institute of Circus collaborated with the show's producers Storeyboard Entertainment in the production.
The setting for the musical – half a circus tent complete with seats and a balcony bandstand (from where a nine strong orchestra performs) together with a pop-up circus wagon for individual performances, add to the production's atmosphere.
While the musical touches on a number of events in Barnum's life including his move into politics, it's the study of his early years where he operated sideshows  then "Barnum's American Museum" which is arguably the most spectacular part of the show. Here the cast can fully showcase their many and impressive theatrical, musical and acrobatic skills.
Barnum the Circus Musical is playing at the Comedy Theatre until June 2. For tickets and more information visit the Barnum website
*Photo credit: Jeff Busby.
Jenny Burns attended the opening night of Barnum the Circus Musical as a guest of the producers.
Visit travelswithjb.com.au-live shows for more show reviews.
live shows

,

Melbourne

,

reviews
Subscribe to my e-mail newsletter to receive updates.
We respect your privacy.
Unsubscribe at any time.