There were plenty of cheers and tears at the end of The United Ukrainian Ballet's performance of Swan Lake at Melbourne Convention and Exhibition Centre's Plenary Hall.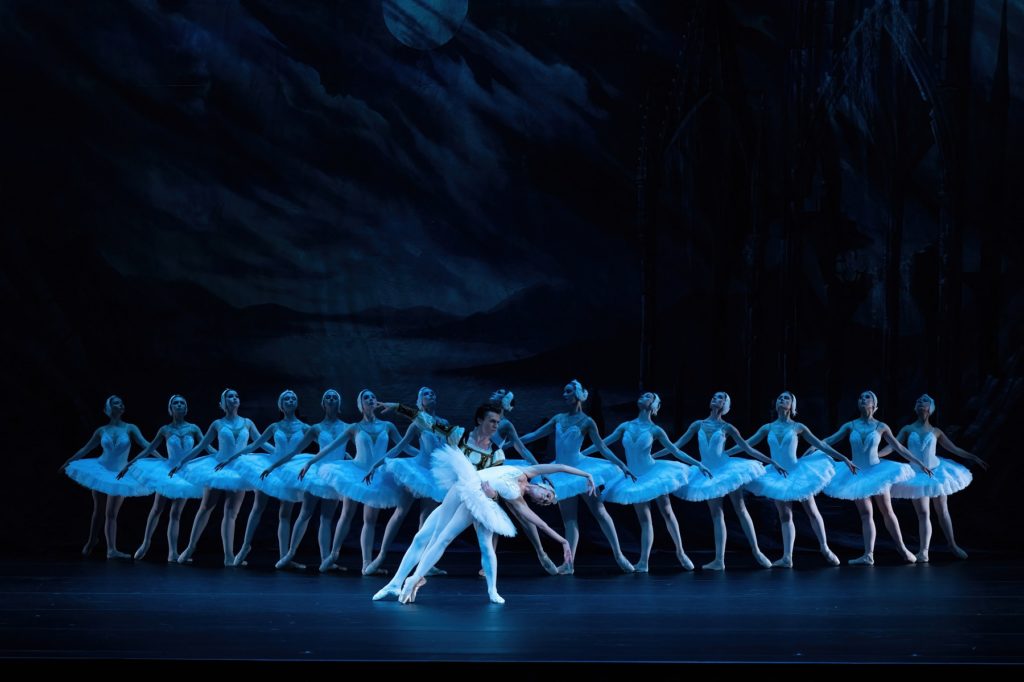 The cheers were for the performances of the company's star dancers. The tears occurred when they and other company members appeared on stage with several Ukrainian flags and sang, with great emotion, the Ukrainian national anthem.
Clearly, like the performance itself, this action had a major impact on an audience who, from the start of the ballet, showed their appreciation and support for the United Ukrainian Ballet company which was only formed six months ago. Its formation followed former Dutch National Ballet principal ballerina Igone de Jongh and her production company, Senf Theatre Partners, lobbying the Mayor of Hague to repurpose an old conservatory building, due for demolition  as a refugee centre for Ukrainian dancers and others.
Initially 15 female dancers were based at the centre as men were not allowed to leave Ukraine without permission.  The Ukrainian government eventually allowed male dancers to join the company which now features award-winning dancers from Ukraine's finest ballet houses including The National Opera of Ukraine, Kharkiv Opera Theatre, Odesa Ballet Theatre and Lviv Ballet Theatre together with ensembles, creatives and technicians.
The choice of Swan Lake for their first Australian tour would seem apt. It's one of the world's best known and most loved ballets thanks to Tchaikovsky's wonderful music and its iconic dance scenes.  And what better than a story which tells of love conquering evil?
In the case of Swan Lake that love is between Prince Siegfried, the young heir to the throne who is under pressure to marry and the Swan Princess Odette whom he sees in a lake surrounding the grounds of the Royal Palace.
Odette has been cursed by the evil sorcerer Baron von Rothbart who is also Siegfried's mentor.  As a result Odette and her flock of swan maidens are by daylight condemned to be swans. Only during the long slow hours of darkness do they once again become mortals.  The curse can only be broken by a man who pledges his heart exclusively to her and without exception.
Needless to say Rothbart does all he can to stop this occurring including casting a spell over his daughter Odile to make her identical to Odette and thus tricking Siegfried into falling in love with her. Eventually though good triumphs over evil.
Given my lack of knowledge of ballet commenting on the technical skills of the dancers would seem inappropriate. However to an untrained eye they all seemed impressive with some very athletic performances.
Those around me who appeared to have a greater knowledge, were  particularly enamoured with the performance of Kateryna Chebykina as Odette/Odile, Oleksiy Grishun as Rothbart, Pavlo Zurnadzhi as the court jester while there was also plenty of praise for Oleksii Kniazkov as Prince Siegfried.  The corps de ballet, moving in magical unison as glimmering swans, was also extremely well received.
Then there were the final cheers for all members of the company whose love of ballet and their country were on display for all to see. It was a finale  everyone present is unlikely to forget in a hurry.
The United Ukrainian Ballet's performance of Swan Lake is on in Melbourne until Sunday October 23, at Sydney's Darling Harbour Theatre ICC Sydney from October 28 to November 5 and Adelaide's Festival Theatre from November 9 to 13.  Visit The United Ukrainian Ballet Swan Lake website for more information and tickets.
*Photo credit: Ben Vella
Jenny Burns attended the opening night performance of Swan Lake as a guest of the company.
ballet

,

Melbourne

,

review
Subscribe to my e-mail newsletter to receive updates.
We respect your privacy.
Unsubscribe at any time.