There were plenty of cheers for the Australian Brandenburg Orchestra and Circa's show – Spanish Baroque. But there could have been far more.
You could feel the audience at Melbourne's Recital Centre wanted to break into applause after many of the hair-raising feats from the Circa performers.
But as these feats were often performed mid the playing of music by the Brandenburg, any applause would have seemed disrespectful to the musicians. So generally everyone tried to hold on to their cheers until the end of each number. Yet a couple of times the Circa acts were so amazing the audience couldn't help themselves! These acts included one of the performers spectacular head-first dive down a pole towards the stage floor and a three-level human pyramid.
Spanish Baroque marked the first time I have seen performers from the Brisbane-based contemporary circus troupe Circa. It was worth the wait. The power, strength and balance of the troupe's four men and four women were breathtaking.
The program included ensemble and solo acts. Ensemble numbers featured tumbles, dives, throws and jumps, lifts and delicate balancing acts. Solo acts included performances on a pole, ropes, trapeze and a see-saw.
Some acts were serious, some sensual and several funny – including a bull fight with a red wheel-barrow standing in for the bull. All were performed to Spanish baroque-inspired music which included works by Albéniz, Merula, Murcia, Martinez and Vivaldi.
As with all ABO performances the music was expertly presented on period instruments – in this concert violins, cello, guitars, organ, harpsichord and percussion instruments. Complementing the orchestra were guest performers – New Zealand soprano Natasha Wilson and Italian baroque guitarist Stefano Maiorana.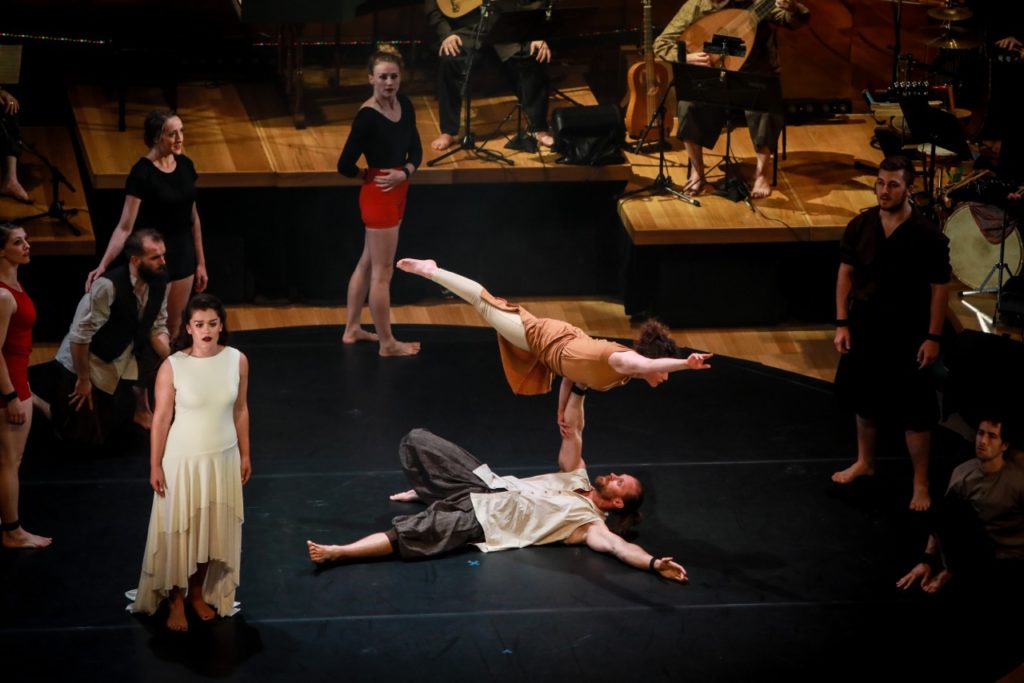 This was the first Brandenburg concert I have been to that I didn't spend my time looking at the orchestra members and concentrating on the music. While I was certainly aware of the music, I found my attention was more drawn to the Circa performers.
Yet, given their moves, it was clear the performers were very much in harmony with the music they were performing to. It was this relationship between the Brandenburg's music and Circa's acrobatic feats which made Spanish Baroque so special.
Spanish Baroque is playing at Brisbane's Queensland Performing Centre on Tuesday May 16. For more information visit the Australian Brandenburg website.
Jenny Burns attended Spanish Baroque at the Melbourne Recital Centre on May 13 as a guest of the Australian Brandenburg Orchestra.
*All images Steven Godbee
Visit travelswithjb.com.au-live shows for more live show reviews.
Subscribe to my e-mail newsletter to receive updates.
We respect your privacy.
Unsubscribe at any time.