There were plenty of laughs on the opening night of Around the World in 80 Days although I'm not sure how many of the jokes were in the script!
The three actors in the cast – Ian Stenlake, Pia Miranda and Grant Piro – looked to be having great fun appearing in the stage show,  playing at St Kilda's Alex Theatre.
Given the three are extremely experienced and highly regarded often you felt they, like the audience, found some of the scenes very amusing and struggled to keep a straight face.  But then again it could have just been great acting!
Based on the novel by Jules Verne and directed by Terence O'Connell, Around the World in 80 Days tells of fearless adventurer Phileas Fogg and his faithful manservant, Passepartout, as they set out to win an outrageous wager by circling the globe in an unheard of 80 days. At their heels is a relentless Scotland Yard detective Inspector Fix who believes Fogg has robbed the Bank of England.  Their journey takes them across India, China, Japan and America and in contact with over 30 characters.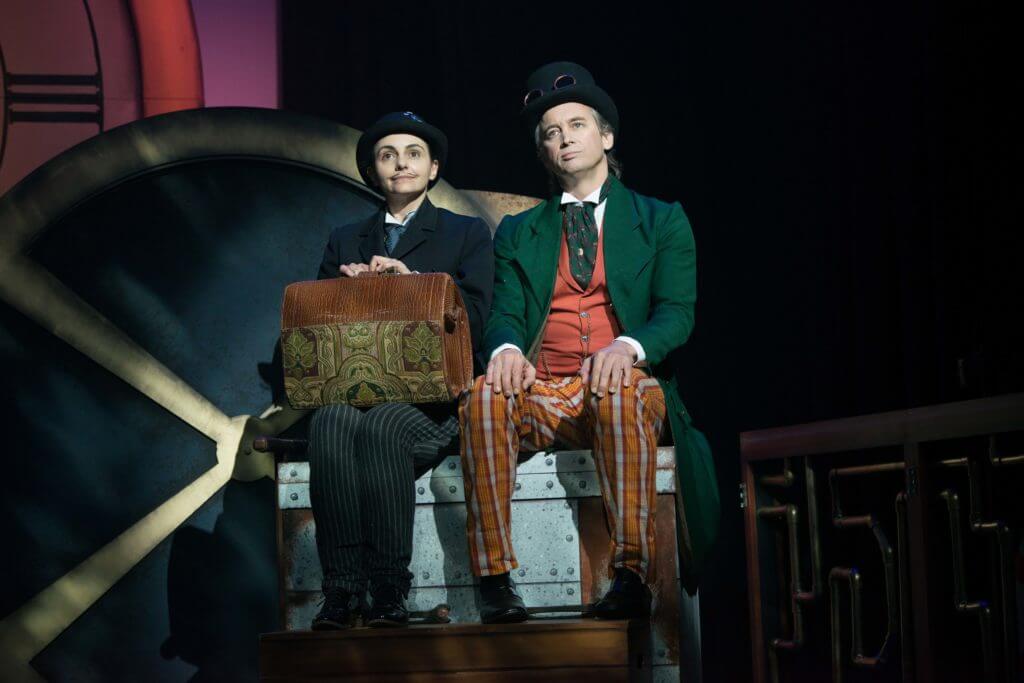 Having never seen the story portrayed as a stage play and only vaguely remembering the 1956 movie staring David Niven I wasn't sure what to expect.  To add to the intrigue I knew this version only featured the three actors.
As well as playing a main character – Stenlake played Phileas Fogg, Miranda – Passepartout and Piro  – Inspector Fix – each actor also played a number of other characters.  Hats were often used to distinguish the characters, although Piro's costume as the Princess Aouda was certainly very different!
All three actors played their roles extremely well.  Arguably Miranda had the most demanding role as at times she literally ran from one character to another. Piro's wonderful facial expressions were another highlight. He especially looked like he was having great fun. His enthusiasm and comic timing was such that I found myself laughing out loud on many occasions. These funny moments outweighed some of the other scenes that didn't work quite as well.
Around the World in 80 Days is one of those shows that some are going to love while others may not appreciate it as much as, at times, it is quite silly.  I found it very enjoyable and am still chuckling thinking of Piro's facial expressions and some of the imaginative staging and dialogue.
Around the World in 80 Days is playing at the Alex Theatre until September 4. Visit Ticketek for more information.
Photos: James Terry
*Jenny Burns attended the opening night of Around the World in 80 Days as a guest of the show.
Subscribe to my e-mail newsletter to receive updates.
We respect your privacy.
Unsubscribe at any time.