Combine a touch of horror with the supernatural and an old fashioned `whodunit' and you have the movie A Haunting in Venice.
Kenneth Branagh's third Agatha Christie adaptation featuring the famous Belgian detective, Hercule Poirot, is loosely based on  Hallowe'en Party one of Christie's lesser-known books.
However, there are several major changes, the most dramatic being the transporting of the crime from a London country house to a run-down and creepy gothic style palazzo in Venice.
When we meet Poirot (Kenneth Branagh) it's 1947 and he has retired to Venice.  He avoids the many locals lined up outside his home who want his help with the assistance of his bodyguard, former Italian police detective Vitale Portfoglio (Riccardo Scamarcio).
A visit from friend and mystery writer Ariadne Oliver (Tina Fey) sees him return to action.
Working on her latest book, Ariadne wants Poirot to expose as a fraud the seemingly credible psychic medium Mrs Reynolds (Michelle Yeoh).
Reynolds has been hired by former opera singer, Rowena Drake (Kelly Reilly), to hold a Halloween night séance in her run down and seemingly haunted palazzo. Drake is still suffering from the supposed suicide of her daughter Alicia (Rowan Robinson) and wants Reynolds to contact her.
Upon arrival, during a children's Halloween party, Poirot discovers the many myths and rumours about the building which was once the site of an orphanage.
Poirot doesn't believe in ghosts or the supernatural and quickly manages to expose Mrs Reynolds. But then she is murdered and given there's a violent storm outside, Poirot decides it's up to him to solve the crime.
There are plenty of suspects including the housekeeper, Olga Seminoff (Camille Cottin) and the war-scarred doctor Leslie Ferrier (Jamie Dornan) who is there with his son Leopold (Jude Hill). Then there's Alicia's ex-fiancé Maxime Gerard (Kyle Allen) and Reynolds' assistants Desdemona (Emma Laird) and Nicholas (Ali Khan).
Finding the murderer proves especially challenging and disconcerting for Poirot given the many supernatural events occurring around him. And then there's another murder.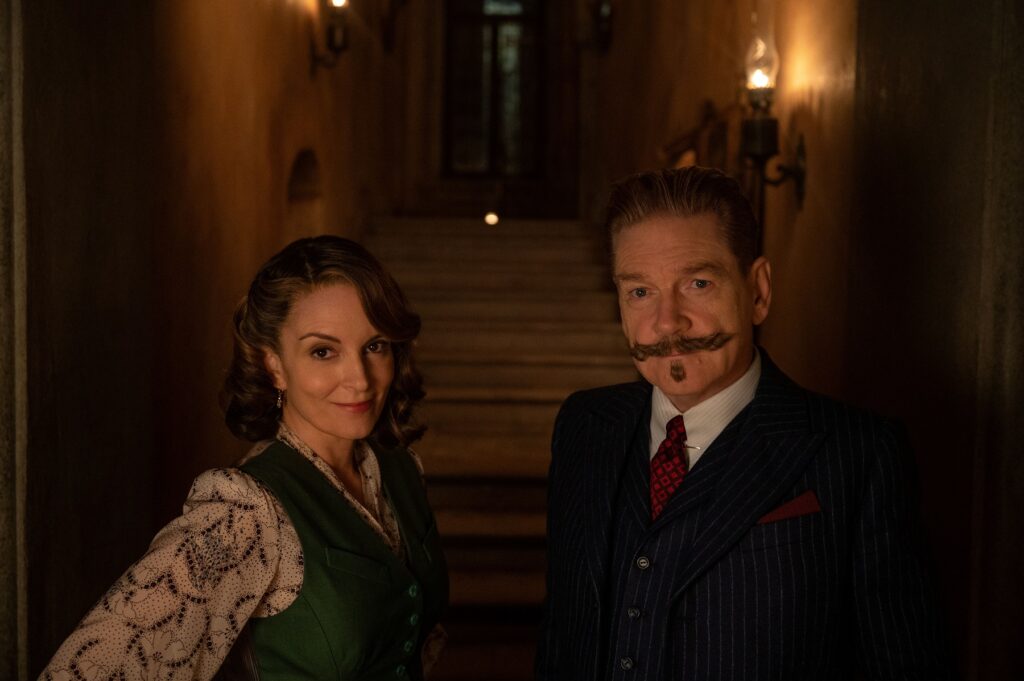 At times A Haunting in Vienna has the feel of a ghost story, at other times a gothic horror tale and yet other times a good old-fashioned whodunit.
In all three modes there's an underlying claustrophobic feel thanks to the dark foreboding interiors of the gloomy, crumbling palazzo, the strange happenings including unexplained voices and the raging storm outside. Adding to the feeling of gloom are Poirot's own personal struggles.
Having played Poirot on three occasions Branagh's comfort with the character is obvious while Fey also gives a strong performance. The interactions between the two provide the movie's rare lighter moments.
The support cast all make believable suspects so much so that it wasn't until the final reveal that I knew who the murderer was and why.  But then, like Poirot, I was sidetracked by all those unnatural occurrences occurring within the palazzo!
 A Haunting in Venice opens in cinemas around Australia on Thursday September 14.
*© 2023 20th Century Studios. All Rights Reserved.
Subscribe to my e-mail newsletter to receive updates.
We respect your privacy.
Unsubscribe at any time.