Coral Browne: This F***ing Lady, playing at Melbourne's fortyfivedownstairs hits the mark on numerous fronts.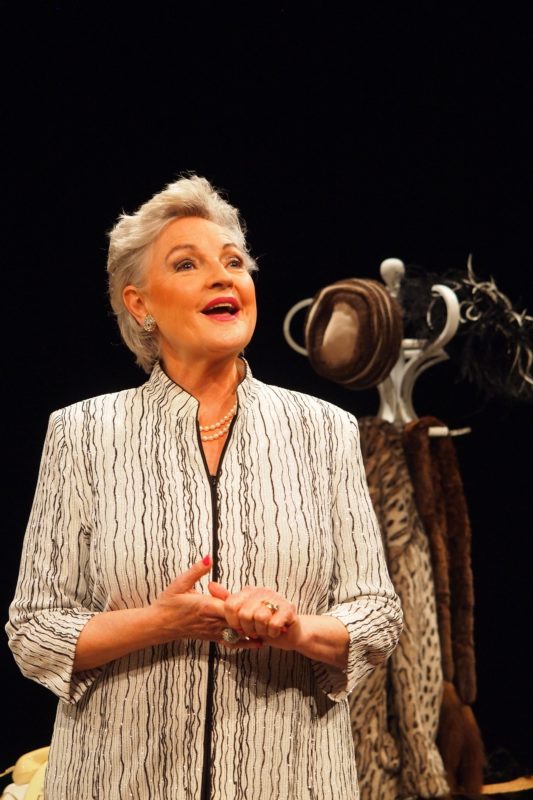 The subject of the play, actor Coral Edith Browne (1913 – 1991), is fascinating. Genevieve Mooy excels in bringing Browne to life with the help of Maureen Sherlock's script which is informative and full of funny lines, reminiscences and interesting and often surprising anecdotes.
I knew nothing about the West Footscray born Browne (who added 'e' to her family name Brown after being advised by a numerologist that her luck would change if she did).
Now, as result of this 70 minute one woman play, I can't understand why she's not included in discussions about successful international Australian actors.
During the show I discovered Browne left Melbourne as a 21 year old in the 1930's after a successful stage career with JC Williamson. She quickly landed on her feet and forged a reputation as a popular West End performer and later a brilliant classical actor with The Old Vic and The National.
She also had many memorable screen performances including roles in Auntie Mame, The Killing of Sister George, Dennis Potter's Dreamchild and Alan Bennett's An Englishman Abroad in which she famously played herself, touring to Moscow with Hamlet and encountering the British spy Guy Burgess. It earned her a BAFTA award for Best Actress.
Off stage I learnt Browne was known for her wit, glamour and extremely colourful language which comes to the fore during this production. This isn't the show for anyone adverse to four letter words – as the title indicates!
It seems Browne was equally well known for her numerous relationships with men and women. During the show we hear of her affairs with Paul Robeson, Jack Buchanan, Maurice Chevalier and Cecil Beaton and her happy marriages to homosexual actor Philip Pearman and horror movie icon Vincent Price.
We also learn about her fractured relationship with her malcontent and manipulative mother, who was never satisfied with Browne's achievements.
Mooy excels in bringing both Browne and her mother to life in an extremely demanding role. During the show, using different clothing and hats, she expertly portrays a nervous 12 year old Browne performing in a Ballarat Eisteddfod and Browne's mother. She also presents scenes from different plays Browne appeared it.
A TV monitor on the back wall of the play's set (said to be Browne's Hollywood Hills home in the 1990s) supports Mooy's presentation by showing slides of the star's childhood, her many famous lovers and various movie posters.
It's the chance to learn about one of our forgotten and very colourful actors together with a witty and informative script which ensures Coral Browne: This F***ing Lady, is both a funny and educational production.
Coral Browne: This F***ing Lady is playing at fortyfivedownstairs (45 Flinders Lane Melbourne) until July 22.  For more information and tickets visit coralbrowneplay.com
*Photo credit: Rob George
Jenny Burns attended the opening night of Coral Browne: This F***ing Lady as a guest of the producers.
Visit travelswithjb.com.au-live shows for more show reviews.
Subscribe to my e-mail newsletter to receive updates.
We respect your privacy.
Unsubscribe at any time.