The Australian Brandenburg Orchestra's Brandenburg Concertos concert, staged at the Melbourne Recital Centre, had all the ingredients of a memorable anniversary party.
There were funny reminiscences, colourful decorations, lots of cheers and the stars of the celebration were in fine form.
The Concertos concert was the first in a year which sees the Brandenburg Orchestra celebrate its 30th anniversary. The programme consisted of five of Johann Sebastian Bach's six Brandenburg Concertos (Nos 1,3,4,5 and 6).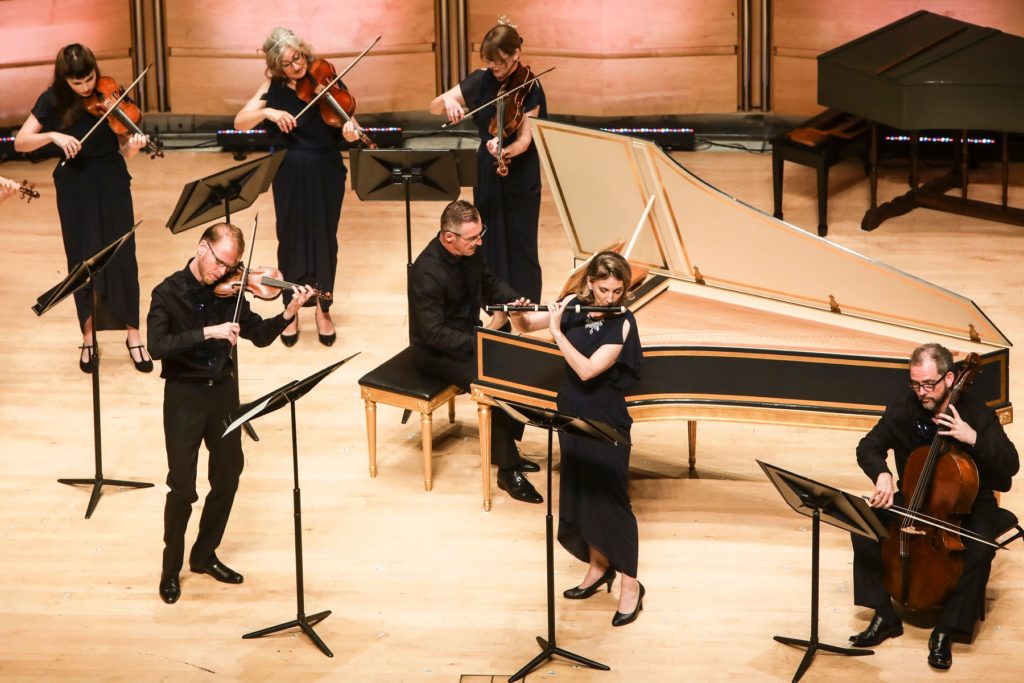 Artistic director and ABO co-founder Paul Dyer opened proceedings with memories of his first performance with the orchestra and some of his funniest experiences – many of which seemed to have occurred in Western Australia!
Joining him on stage were current orchestra members baroque flute/recorder players Melissa Farrow and Mikaela Oberg, whose fathers played in the Brandenburg's first concert at the Sydney Opera House in 1990.
To celebrate the milestone sparkles were added to the orchestra's usually conservative outfits. And streamers showered over the audience and the stage at the end of the concert.
Both the musicians and audience clearly enjoyed the event as demonstrated by the hugs on stage and the audience applause at the end of each piece and at the conclusion of the show.
Such applause was truly justified as the Brandenburg showed why it is considered one of the world's best period instrument orchestras.
Unlike many previous concerts, and future performances this year, there were no guest performers. The spotlight was on members of the orchestra.
This was one of the reasons why Dyer chose the Concertos to launch the 2019 season. Each concerto provides orchestra members with the chance to shine. And shine they did.  Leading the way was Dyer, whose solo on the harpsichord in Concerto No 5 clearly captivated the audience and showed he's lost none of his keyboard skills.
History was another reason for Dyer's selection of the Concertos. Concerto No. 3 was the first piece he played with the Brandenburg 30 years ago.
Furthermore the pieces feature rarely heard instruments including the violin piccolo and the viola de gamba.  And most importantly the orchestra is named after Bach's Brandenburg Concertos.
Dyer's love and admiration of Bach and his music has been evident at every concert where his work has featured. No doubt Bach would be just as enthusiastic about Dyer's and the Brandenburg's presentation of his work over the past 30 years.
Jenny Burns attended Brandenburg Concertos as a guest of the Australian Brandenburg Orchestra.
*Photo credit: Steven Godbee.
For further information on upcoming Australian Brandenburg Orchestra concerts visit the company's website.
Visit travelswithjb.com.au-live shows for more show reviews.
Australian Brandenburg Orchestra

,

live shows

,

Melbourne

,

review
Subscribe to my e-mail newsletter to receive updates.
We respect your privacy.
Unsubscribe at any time.