Avenue Q, on at Mebourne's Her Majesty Theatre, offers plenty of laughs and some great performances by its young, enthusiastic cast.
Having not seen a production of this Broadway hit I wasn't sure what to expect, although the invite provided a few hints. It described the show as "an irreverently, witty and outright uproarious insight into a world where Sesame Street-esque puppets rub shoulders with humans." As it turned out it was a pretty apt description, although this is definitely not a kid's show!
Avenue Q revolves around a bunch of 20-somethings who live in a group of terrace houses in a poor area of New York. Three residents are humans, the rest are little, arm-length puppets operated and voiced by actors onstage. They've each got their own problems and issues. Sex, racism and homelessness are some of the many issues explored in mostly a very humorous manner.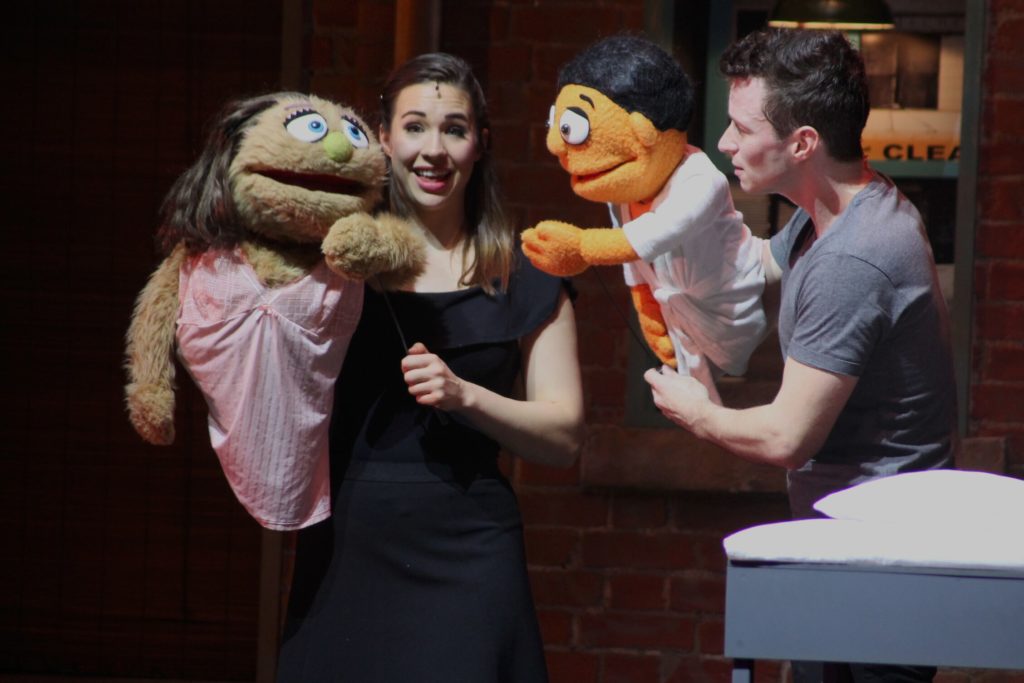 Puppet characters include Princeton, a university graduate who is looking to find his purpose and Kate Monster an idealistic kindergarten teacher who wants a boyfriend. She also wants to start a school for monsters.  Rod is an uptight, closeted, Republican supporting banker who shares a house with Nicky, who just likes hanging out. Trekkie Monster is obsessed by porn, the Bad News Bears aim to cause trouble while Lucy the Slut is a nightclub singer with questionable morals! `The human' characters are Christmas Eve, her unemployed fiancé Brian and child actor Gary Coleman.
As well as featuring a script that is observant and humorous, if at time rather explicit (including puppets making love),  the other joy of Avenue Q on opening night was the performance of the cast.
Sophie Wright showed her many skills voicing and manipulating Kate Monster and Lucy the Slut. It can't have been easy as at times she was manipulating one puppet and voicing the other. But her singing was brilliant and comic timing spot on.
The same could be said of Ross Hannaford who played both Princeton and Rod.
Sun Park as Christmas Eve, Andrew Hondromatidis as Brian and Zuleikah Khan as Gary Coleman also showed both their vocal and comic skills.
Transitional videos used between scenes with humorous references to such topics as one night stands and commitment, were another highlight of the show.
Since its launch off Broadway in 2003 Avenue Q has picked up numerous prestigious awards including Tony Awards for Best Musical, Best Original Score and Best Book. It's easy to see why – with many laugh out loud scenes and some entertaining songs including What Do You do with a BA in English! It Sucks to be Me, If You were Gay, Purpose and Everyone's A Little Bit Racist, the show is great fun and certainly not your usual musical.
Avenue Q is playing at Her Majesty's Theatre Melbourne until 14 August. For more information and tickets visit the Her Majesty Theatre's website
Photos: Nicole Riseley.
*Jenny Burns attended the opening night of Avenue Q as a guest of the show.
Subscribe to my e-mail newsletter to receive updates.
We respect your privacy.
Unsubscribe at any time.