The Play That Goes Wrong ticked all the right boxes on opening night at Melbourne's Comedy Theatre.
The audience laughed loudly and continually  as the hapless cast members dealt with everything from collapsing scenery to muffed lines and even physical injuries. Yet while disasters occurred all around them, the cast bravely soldiered on.
After wowing audiences in the UK it's Australia's turn to experience the `train wreck' that is  The Play That Goes Wrong.
The play is the brainchild of ensemble members of Mischief Theatre, a theatre company set up in 2008 by a group of graduates from the London Academy of Music and Dramatic Art. It was first presented as an improvised show in Edinburgh. After more work it opened in the Old Red Lion theatre pub. Further modifications saw it open in the West End and the rest, as they say, is history. It's won numerous awards including the Olivier Award for Best New Comedy 2015, BroadwayWorld UK Winner for Best New Play 2015 and WhatsOnStage Award Winner for Best New Comedy.
A farcical play-within-a-play, The Play That Goes Wrong  tells of 'The Cornley Polytechnic Drama Society' which is attempting to put on a 1920s murder mystery, `Murder at Haversham Manor'.
Even before the play begins you know there's going to be trouble as the crew search the theatre for a `lost' cast member. Then just as the play starts the `corpse' is yet to take his place on stage.
While many of the cast's `problems' are a result of fragile stage sets and missing props their `acting abilities' greatly contribute to their many on stage disasters. Lines are forgotten or fluffed, words are mispronounced and the actors can't ad-lib when things do go wrong.
All members of the predominantly Australian cast do a great job playing `bad actors'. The delivery of their lines and slapstick antics are impeccable, which is essential for a script which demands continual and exhausting physical activity and exact timing.
Nick Simpson-Deeks brilliantly plays the very serious Chris Bean who is president of the Cornley Polytechnic Drama Society and director of The Murder at Haversham Manor. He is also costume designer, prop maker, box office manager, press and publicity manager, dramaturgy, voice coach, dialect coach and fight choreographer and plays Inspector Carter as well.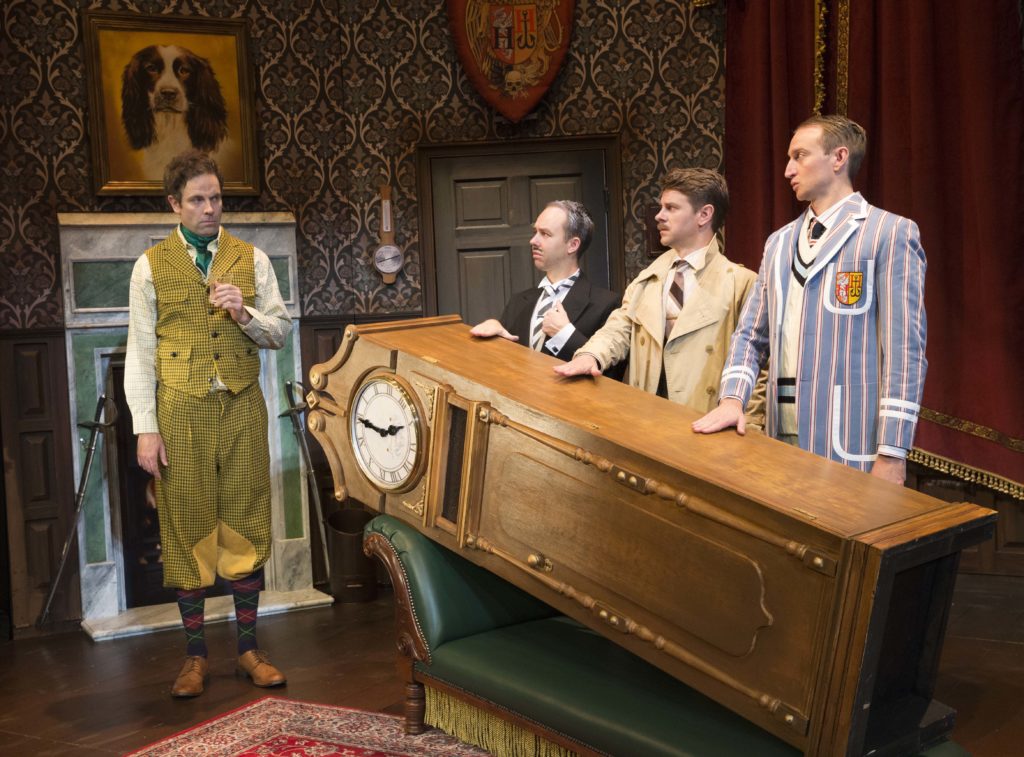 Luke Joslin plays Thomas Colleymoore who is determined to stick to the script no matter what. George Kemp is Perkins who, despite having key words written on his hand, mispronounces them while James Marlowe (the one member of the original London cast) is Cecil Haversham. He often breaks character to smile when he gets a laugh from the audience.
Brooke Satchwell is the glamourous Florence Colleymoore. Tammy Weller plays Annie, the stage manager who enjoys her unexpected role as the leading lady and isn't keen to give it up.
Darcy Brown plays Charles Haversham who faces many struggles as a corpse while Adam Dunn is Trevor, the Duran Duran-loving sound operator who is often too bored to do his job.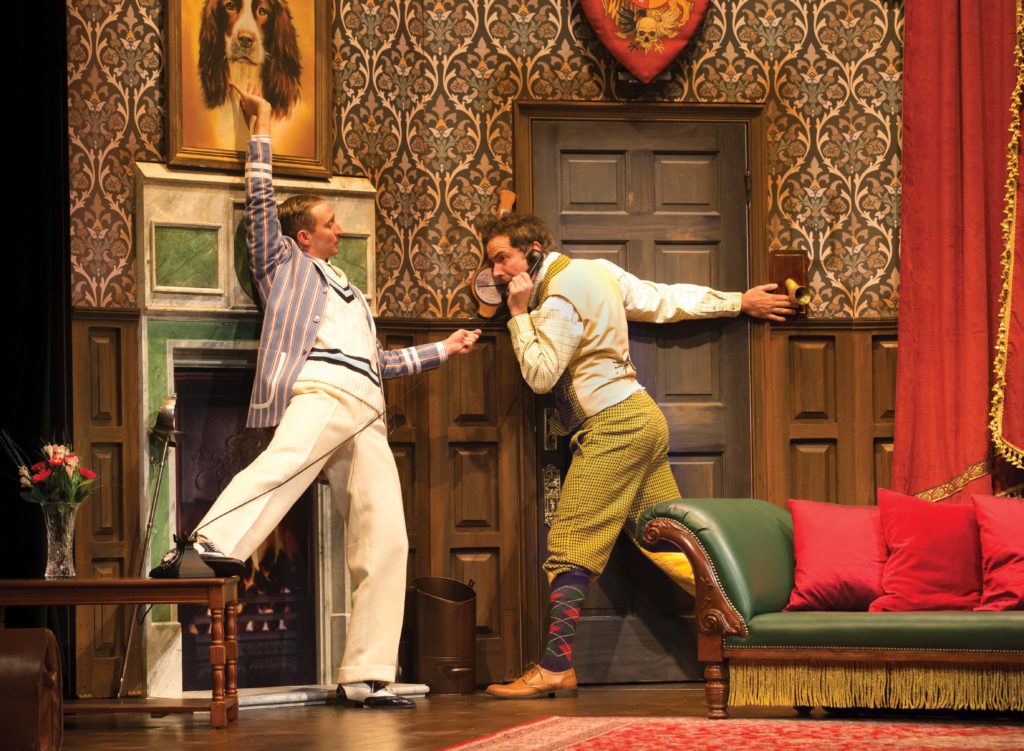 In explaining the success of the play (which has been performed in numerous European countries and is due to open on Broadway this month) director Sean Turner highlights its physical comedy and slick choreography.
All these elements were certainly evident on opening night. With its very British comic style, stunts and general silliness, The Play That Goes Wrong is a laugh out loud, fun and entertaining piece of total escapism. While this may not appeal to all audiences it certainly did to me!
The Play That Goes Wrong is on at Melbourne's Comedy Theatre until March 26. It then moves to Adelaide, Sydney, Canberra, Brisbane and Perth. Visit the website for more information and tickets.
*Photo credit:  Jeff Busby
Jenny Burns attended the opening night of The Play That Goes Wrong as a guest of the show.
Visit travelswithjb.com.au-live shows for more live show reviews.
Subscribe to my e-mail newsletter to receive updates.
We respect your privacy.
Unsubscribe at any time.