The Blue Train is marketed as one of the world's most luxurious train trips. My trip lived up to expectations.  It was a relaxing way to see the South African countryside.

What: Suite 28, a luxury suite on the Blue Train between Cape Town and Pretoria
Who: JB
Why: As I had heard about the Blue Train on many trips to South Africa, but never experienced it, South African Tourism arranged a trip for me.
When: May 17, 2013
How did it rate?
My butler who was friendly and helpful and brought me a hot cup of coffee in the morning!
A comfortable chair and desk good for writing (if you do have to work).
The bathrobes – especially as I was trying to keep luggage to a minimum.
The request from train manager that mobiles not be used in public areas.
The fresh fruit waiting for me in my carriage – especially welcome as I chose the later brunch time on the first morning of my trip.
The meals generally of a very high standard and the service was friendly and helpful.
The cost of the train trip is fully inclusive excluding caviar and French champagne.
Although I didn't watch it there was a television which included a selection of movies, music and information on the train trip and areas travelled through.
The front facing seat looked straight into the mirror of the dressing table so I did continually see myself in the mirror which at times can be disconcerting!
[caption id="attachment_1341" align="alignnone" width="1024"]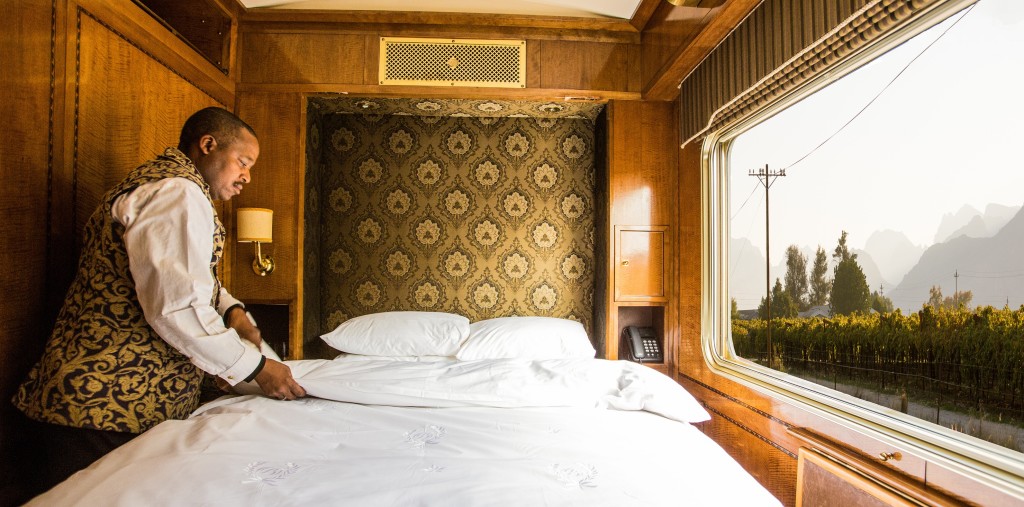 A double bed in a luxury cabin on the Blue Train. Image courtesy of the Blue Train.[/caption] [question] I found sleeping very difficult given the movement of the train – some on the train experienced similar problems, others reported an excellent night's sleep.
Wi fi in the suite was unexpected and most welcome, but the service did drop out quite a bit which could lead to some frustration.
While promoted as brunch, the menu on offer was more of a lunch menu. It included escargots and herb and parmesan lamb. It wasn't a problem for me as I chose the second sitting which started at 12.30 and I was happy to have such cuisine for lunch, but not sure if I would want it at 10.30am  – the time of the first sitting.
Dinner on the train is formal, so men must wear a tie and jacket and women elegant evening wear. While I was happy to dress accordingly this may not suit everyone.
The afternoon tea of cakes, scones and sandwiches disappeared very quickly. After such a big lunch I wasn't interested in any more food but early sitting brunch patrons may enjoy such delights.