Apartment 53 at Moonah Links on Victoria's Mornington Peninsula provided a restful short break.

The privately owned apartment, located within the Peppers Moonah Links Resort , is located beside the practice putting green and is only a short walk from the main golf club house/reception area. As the weather was rather cold and wet, my planned explorations of the beaches and gardens of the Mornington Peninsula were put on hold – meaning a couple of quiet days in the apartment on the couch reading and writing.
What: Apartment 53 Muirfield Lane, Moonah Links.
Why: Researching stories on the Mornington Peninsula.
When: August 24 to 26 2015
How Did It Rate

The apartment's ambiance. It was light and bright and both the lounge and bedroom provided views of the practice putting green. The furnishings were comfortable and functional. Facilities in the lounge/dining area included a large couch (which converted into a double bed), good size desk and chair, dining table, TV, DVD player and a small stereo unit. The kitchen included a small fridge (with only a tiny freezer) dishwasher and microwave. Furniture in the bedroom included a king size bed, TV, DVD player and a small safe in the wardrobe. A large bathroom included a full size bath with shower and washing machine/dryer.
The lighting in the lounge. As a `night reader' it was good to have lights that were bright enough to see clearly!
The cooking facilities in the apartment were enough to make a simple meal.
While I am not a golfer, two 18-hole championship golf courses were only a few minutes' walk from my accommodation. The property's main reception area was also just a short walk. Facilities here include Pebbles Restaurant and Spike Bar.
The view from the apartment is a highlight – but it could also be an issue. As I could see those practising on the putting green, I assume they could also see me. Needless to say if you have the curtains open it is a good idea to dress in a manner that won't embarrass!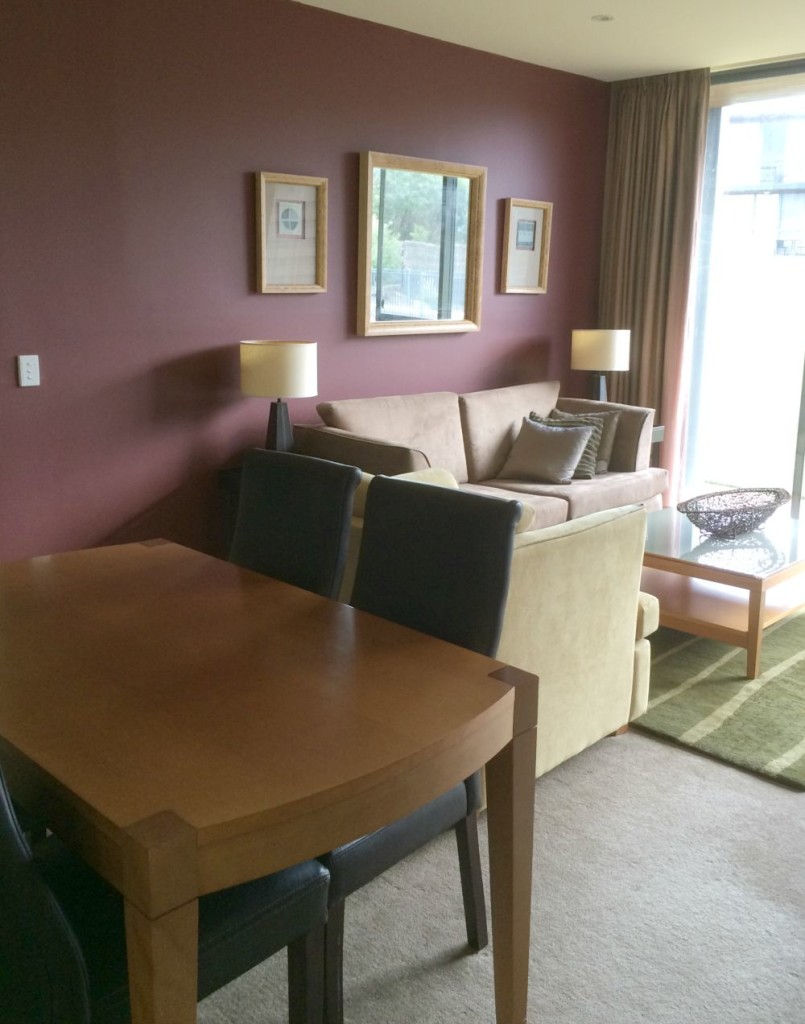 While located within the Pepper's Resort, being privately owned and operated by Seastays, Apartment 53 has its own rules and regulations. I was a tad surprised to find that I had to strip the bed and dispose of all rubbish.  Fair enough, although a text at 9.30am to advise the cleaners would be at the apartment at 10am was unexpected.
Apartment 53 is located at 53 Muirfield Lane, Moonah Links. Visit Seastays for more information.
Visit travelswithjb/victoria for more reviews and stories about Victoria and travelswithjb/ accommodation for more accommodation reviews.